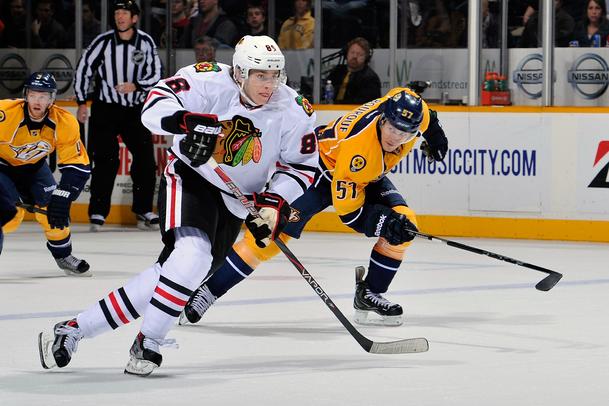 The eyes of the hockey world descended upon Michigan Stadium in Ann Arbor, Mich., on Wednesday afternoon as the Toronto Maple Leafs and Detroit Red Wings battled in the annual Winter Classic hockey game.
While the game itself was a delicious entrée of hockey goodness, played in the swirling snow and freezing cold that so many youth hockey players have experienced (and have become a big part of the allure of this game), the dessert was the announcement of the United States' men's and women's Olympic hockey teams that will represent the country in the Sochi Winter Olympics in February.
The Chicago Blackhawks will be represented on the US team by forward Patrick Kane, who is currently second in scoring in the NHL with 53 points so far this season. Kane will be joined by a host of other talented forwards, including Phil Kessel, Zach Parise, and Joe Pavelski in Russia. James van Riemsdyk, a Maple Leafs forward picked second in the 2007 NHL Entry Draft in which the Blackhawks selected Kane first overall, will also be on the roster.
Brandon Saad, a Pittsburgh native, was not selected to the team despite the assertion of numerous pundits who thought his 2013 season was enough to warrant inclusion on the roster. Saad missed out in large part because of the selection of veterans like Ryan Callahan and Paul Stastny to the team.
The Blackhawks' forward isn't the only Chicago-area players who will be suiting up in Sochi. Megan Bozek of Buffalo Grove and Kendall Coyne of Palos Heights will both be skating with the women's team in the Olympics for Team USA. That group is on a roll right now, winning their last four games of 2013 and also winning the 2013 IIHF Women's World Championship with a gold medal-game victory over Team Canada.
The women's hockey team will get their tournament under way on February 8th when they take on Finland, while the men will begin play on February 13th against Marian Hossa and Team Slovakia.