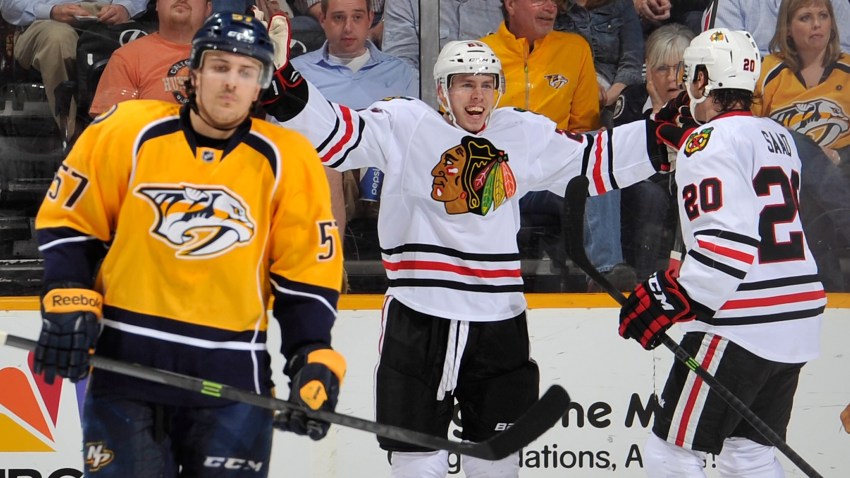 After the Chicago Blackhawks dropped a 4-1 decision to the New York Rangers on Friday night, the team made a couple more roster moves as they continue to shape the roster they will carry into the regular season.
Highlighting the moves was the decision to send defenseman Stephen Johns down to the Rockford IceHogs. Coming out of the University of Notre Dame, Johns figures to have a big place in the team's future plans, but it's likely that GM Stan Bowman wants him to get more seasoning in the pro game before he's brought to the NHL on a full-time basis.
Forwards Matt Carey and Phillip Danault were also sent down to the IceHogs following the game. Carey signed with the Blackhawks out of St. Lawrence University, and he did get into two NHL games last season. He scored a goal and had a minus-1 rating in those contests after scoring 18 goals and dishing out 39 assists in his final 38 collegiate games.
As for Danault, he will likely begin the season with the IceHogs for the second consecutive year. In 72 games last year in Rockford, the 21-year old forward scored six goals and added 20 assists for the team.
The Blackhawks made one other roster move to get their number of players down to 36 as they released defenseman Cam Barker from training camp. Barker, a former first round pick of the team, was a longshot to make the team out of camp, and the team releasing him this early could give him another opportunity to sign with another team in enough time to make a real run at making a roster.