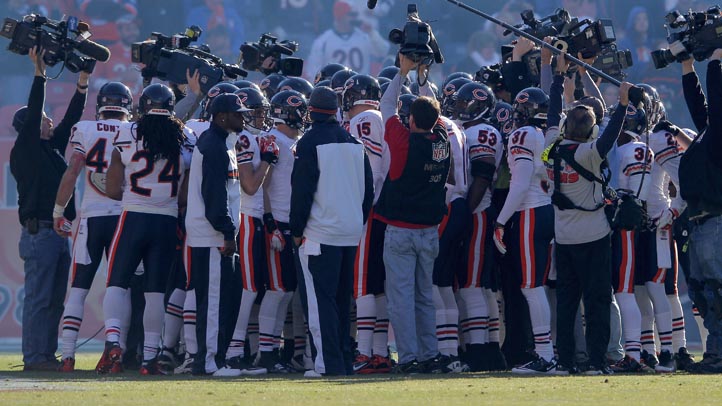 The NFL and HBO announced that the Bengals will be the team featured on the behind-the-scenes series, "Hard Knocks." Once again, the Bears will not be the feature of the show that follows a team through training camp. The Bears management will likely not ever have the cameras follow them that closely.
It's a shame, because the Bears could make some decent theater this season. A new coach, newish general manager, and incredibly revamped roster will guarantee many interesting and dramatic moments this season.
Can you imagine what a closer look at the linebackers' room would be like in the first season without Brian Urlacher? Or how Jay Cutler and Matt Forte react to their new offensive line? How Cutler works with new tight end Martellus Bennett?
The most compelling part of the show is always the struggle for undrafted free agents and journey men to make the team. A player like Joe Anderson has already begun to make waves during off-season workouts. Seeing how he works to make the 53-man roster would be interesting.
Teams shy away from "Hard Knocks" because it takes a close look at every aspect of the team's management. A week's worth of practices, meetings, jokes and arguments are edited down to an hour's worth of viewing. The Jets' turn on the show showed the organization's dysfunction in its early stages. With so many changes happening in the Bears' organization, it makes sense that they don't want to get involved.
Their sensible decisions sure do ruin the fun. Now, the closest the Bears will get to sharing their pre-season drama will be when they start the season against the Bengals.

Copyright FREEL - NBC Local Media