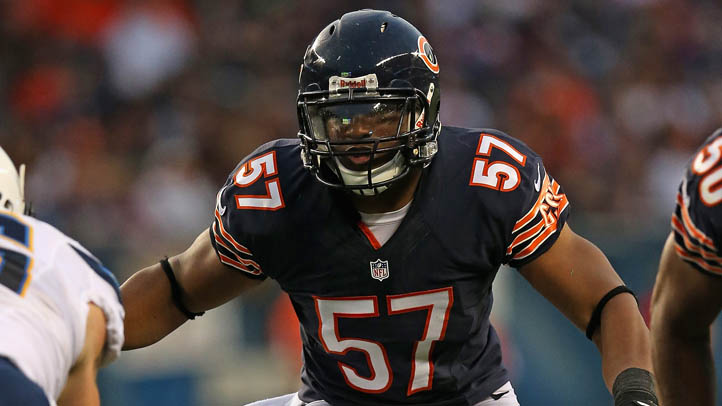 The Chicago Bears are a team in desperate need of a bounce back week as they try to recover from a loss to the Green Bay Packers in Week 4. Unfortunately for them, the Carolina Panthers are in the same boat after being blown out by the Baltimore Ravens, and so both teams will be looking to get back on the right track in the game.
Before the ball is kicked off in Charlotte, we have five Bears players to watch as the Bears try to move their record to 3-2 on the season.
Jon Bostic
While Cam Newton hasn't been at his standard mobile self so far this season, Bostic is still going to have to keep his eyes peeled on the Panthers' quarterback. In Week 1 of the season, Bostic routinely misread read-option plays, and his inability to settle into the correct gaps against the Buffalo Bills led to a big rushing day as the Bears lost. This time around, Bostic has to keep up the progress he's made in recent games, and his athleticism could be a big boost against a young Panthers offense.
Kyle Fuller
Fuller has looked largely good so far this season, tying for the league lead in interceptions and getting named NFL Defensive Rookie of the Month for September. Last week he was given a rough ride by Jordy Nelson and the Packers, so he's going to have to bounce back well in this one. He'll likely face some matchups against Kelvin Benjamin in this game (who happened to win Offensive Rookie of the Month the same day Fuller received his award), and the speedy receiver is going to pose an interesting challenge for the rookie corner.
Brandon Marshall
Marshall looked lost against the Packers last week, miscommunicating with Cutler and causing a game-changing interception. This time around, he's had a full week of practice to get ready for this game, and he'll be looked at as a big target downfield as the Bears try to get their offense back on track following a second half meltdown.
Ryan Mundy
Mundy has had some great moments this season, but he's also had some duds. He leads the team in tackles so far with 24, and his interception return for a touchdown against the New York Jets helped spark the Bears to victory in that nationally televised game. Against the Panthers, Mundy will not only have to make sure to help keep contain on Newton and the Carolina running game, but he'll also have to help out over the top with both Benjamin and Greg Olsen on downfield routes.
Michael Ola
The last three weeks, Ola has done a solid job of filling in for Matt Slauson as the left guard on the offensive line, but this week, his challenge grows even more difficult as he fills in for Jermon Bushrod at left tackle. Protecting Cutler's blind side is going to be a big job for Ola to deal with, and even though the Panthers' pass rush isn't as solid as it was with Greg Hardy in the lineup, Ola still has his hands full as he shifts positions this week.