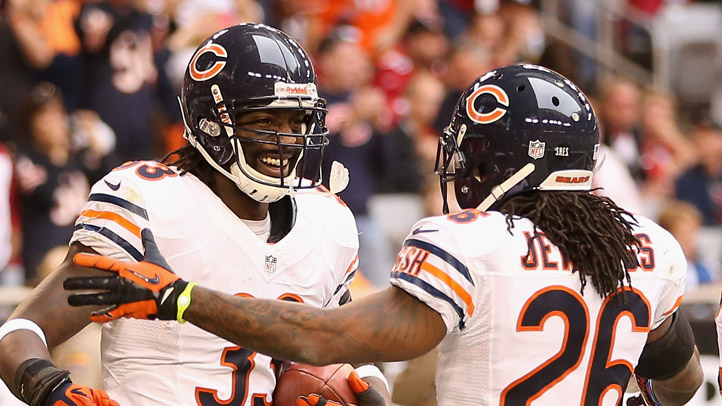 Despite a rough end of the season, five Bears were recognized by their peers, fans and coaches for outstanding seasons. Brandon Marshall, Henry Melton, Tim Jennings, Charles Tillman and Julius Peppers will all represent the Bears at the Pro Bowl.
A closer look at how they earned their spots:
Brandon Marshall: In his first season as a Bear, Marshall made an immediate impact on the team. He became the first Bears' receiver to break 1,000 yards since Marty Booker, and broke the Bears' single-season receiving record. Marshall won the Pro Bowl MVP after the 2011 season.
Henry Melton: He earned his first trip to the Pro Bowl by becoming one of the Bears' most consistent pass rushers. In 13 games, Melton has six sacks and 41 tackles.
Tim Jennings: Also going to his first Pro Bowl, Jennings leads the league in interceptions with eight. His value to the team was obvious when he went out with a shoulder injury, and the defense faltered.
Charles Tillman: Jennings' fellow cornerback leads the league in forced fumbles, using his Peanut Punch to knock out the ball and wreak havoc on ball carriers. He also has three interceptions, which were all returned for touchdowns.
Julius Peppers: Despite battling foot injuries, Pep kept sacking quarterbacks. He has 11.5, plus a forced fumble.
Jennings told NBC Chicago that he spent time in the off-season working on ball drills to get to this moment. He attributed it to his coaches.
"The system and the coaches bring the best out of me. The coaching staff gives you the trust. Coach Hoke believed in me and gave e every bit of confidence I needed," Jennings said.
Players can opt out of the Pro Bowl if they are injured. Also, if the Bears make the Super Bowl, these players won't be in the Pro Bowl.
Copyright FREEL - NBC Local Media