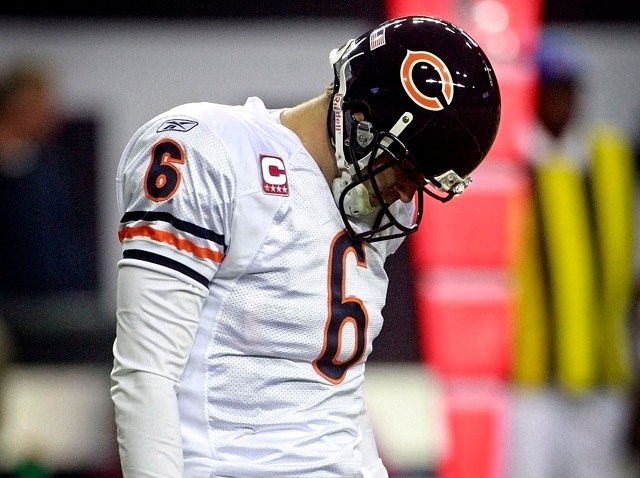 Last week, Jay Cutler's interceptions were the talk of the town. This week, it's his incompletions. Either way, Cutler is taking the majority of the media heat for yet another Bears loss in primetime.

The Chicago Tribune's Rick Morrissey says the Bears' season is "full of broken promises" and that Jay Cutler looked "sharp as a butter knife," completing the sports columnist one-two punch: maudlin and unfunny. His colleague David Haugh is, per the usual, more restrained, recounting the story of how Olin Kreutz challenged Cutler to come up big on Sunday night. Cutler failed.

At the Sun-Times, meanwhile, Neil Hayes says the Bears are beginning to to develop a style -- a style for losing. Brad Biggs wonders whether the Bears will play hard the rest of the season. And Mike Mulligan says the Bears can't even count on the draft next year.

Windy City Gridiron is more optimistic, saying the Bears have a few talented players that are surrounded by a host of "bozos." Da Bears Blog is slightly more apoplectic, calling the loss heartbreaking.

Eamonn Brennan is a Chicago-based writer, editor and blogger. He is the editor of Yahoo! Sports's college basketball blog The Dagger and a contributor to Inside The Hall. Follow him at his personal site, eamonnbrennan.com, or on Twitter.
Copyright FREEL - NBC Local Media