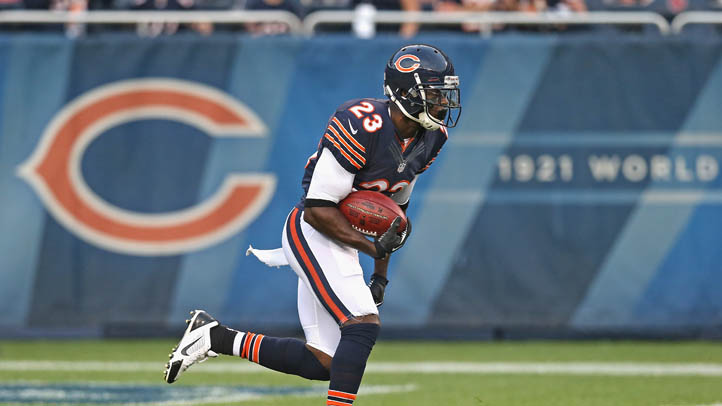 Devin Hester's 81 yard punt return in Week 7 against the Redskins tied the record of 19 career returns for touchdowns in NFL history.

Twice in the Bears return man's eight-year career has he had two returns for touchdowns in a single game. It first happened Dec. 11, 2006, during his rookie year when he returned two kickoffs for touchdowns against the Rams in St. Louis.

"It brings back a lot of memories from my rookie year," Hester said before Sunday's matchup against the Rams, recalling both returns for touchdowns in that 2006 game.

Hester was still playing cornerback then and had just given up a touchdown to Rams wide receiver Torry Holt on a slant route at the goal line. It was the beginning of the end of his career playing defense in the NFL. One year later Lovie Smith moved him to offense at wide receiver.

Now in his eighth season and with a new coach, Devin Hester concentrates solely on special teams.

Bears head coach Marc Trestman re-energized a down-and-out Hester by asking him to play just special teams, or do what he does best. But then there was Hester this week in practice at the Walter Payton Center running drills with the defensive backs. Hester claimed he was just having fun. Trestman laughed, saying Hester has value everywhere and you just "never know."

But with nickel back Isiah Frey fracturing his hand, Charles Tillman out until the post season and safety Craig Steltz returning from a concussion, maybe Hester's days at defensive back aren't over.

Hester didn't exactly put the speculation to rest when a reporter asked if he could step in and play defense now if he had to.

"I think so, I think so," Hester nodded, although the Bears are deep at defensive backs. "Push come to shove, 4th quarter, two minutes left in the game, we need any kind of coverage with me back there, I'd do it."

And maybe see a repeat of history at the Edward Jones Dome too.