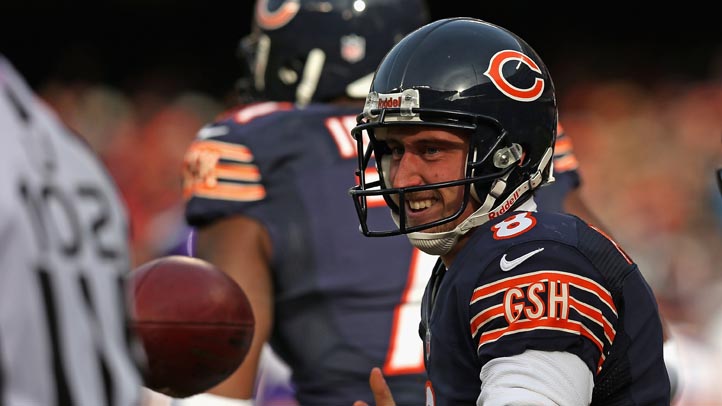 Bears punter Adam Podlesh is spending his off-season on a very worthy cause. Podlesh is using his name and stature as a Bear to raise money for a six-year-old with cancer.
Podlesh, a cancer survivor, met Gavin Waterman through Phil Zielke, another cancer survivor who founded Phil's Friends, a charity that supports people with cancer. Gavin was recently diagnosed with Ewings Sarcoma, a cancer that forms in bones or soft tissue.

The visits to Loyola University Medical Center, four hours away from the Watermans' Mattoon home, medical bills and time off work became a drain on the Waterman family. Podlesh stepped in to help raise money by convincing teammates to give up their hair.
"We had been throwing out ideas on what we could do to help them out and we decided on raising money shaving heads for Gavin, which is applicable because with his chemotherapy he'll be losing his hair in the next week or two," Podlesh said to the Bears website.
Podlesh will shave his head, along with Robbie Gould, Blake Costanzo, James Anderson and Austin Signor to raise cancer awareness and encourage donations to the Gavin's patient assistance fund. He also is running a raffle of Bears memorabilia. Anyone who donates $25 or more will get be entered to win.
He even took Gavin and his dad to a Cubs game, where they ran into another Bear, and Gavin's dad caught a foul ball.
Out at the Cubs game with my bud Gavin, @waterman_jacob @philsfriends06, and even @chrisconte47 came by to say hello twitter.com/Adampodlesh08/… — Adam Podlesh (@Adampodlesh08) May 19, 2013
Podlesh was diagnosed with cancer of the salivary gland in 2010. He is now cancer-free, but the experience moved him to want to help other survivors.
"I don't think that I would be as involved with cancer charities and events as I am now if I hadn't been diagnosed with cancer," Podlesh said. "After going through remission and being cancer free, I've really made it my purpose to try to do whatever I can to help the fight against cancer."
If you want to help the Waterman family, click here to donate.
Copyright FREEL - NBC Local Media