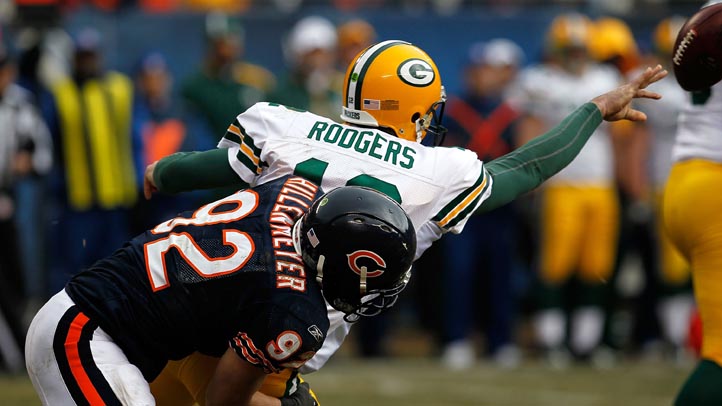 Aaron Rodgers has been the bane of the Bears' existence since he became the Packers' starter in 2008. Bad news, Bears fans. He is reportedly going to be sticking around in Green Bay for a long time.
ESPN reports that the Packers and Rodgers are nearing a deal that could make him one of the richest quarterbacks in NFL history. He currently is making between $9-10 million a season, but the new deal could bring in $25 million a year and keep Rodgers in Green Bay for even longer than his current deal that lasts until 2014.
The Packers have been the toast of the NFC North for a long time, and Rodgers is a big reason why. In 10 games against the Bears, Rodgers has a quarterback rating of 102.7. He has 19 touchdowns and six interceptions. The one area of success the Bears have had against Rodgers is in the pass rush. He's been sacked 19 times, but that's not enough to keep him from being an extremely effective weapon.
In other words, it kinda sucks that he'll be in Green Bay for so long.
But on the other hand, it could be a good thing that the Packers are going to tie so much money into one position. Since the Ravens gave Joe Flacco a six-year, $120.6 million contract, they have let go of key players from their championship run like Ed Reed and Anquan Boldin. If the Packers invest so much at quarterback, they may have to cut back in other areas, keeping them from being the team who has owned the Bears for so long.
Maybe? Hopefully?
Copyright FREEL - NBC Local Media