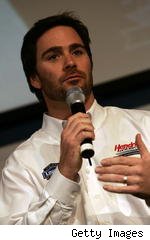 In this edition of Bears Bites, we take a look at how the new-look Chicago Bears defense is progressing, Alshon Jeffery's new nickname, and what Brandon Marshall was up to over the weekend.
-We start out with the new-look Bears' defense, which is using their OTA practices to begin absorbing the new wrinkles that defensive coordinator Mel Tucker has come up with. With new weapons like Jared Allen and Lamarr Houston in place, the team has a lot of new guys to get acclimated. [Chicago Tribune]
-For a more detailed look at how the team is getting the new guys used to the defense, you can check out Adam Hoge's article on the subject. [CBS Chicago]
-Bears WR Alshon Jeffery has decided on a new nickname for himself, thereby ensuring that the nickname won't stick. Isn't there a law against giving oneself a nickname? [CSN Chicago]
-Jordan Palmer may not be the guaranteed back-up quarterback behind Jay Cutler this season, but he is taking his cues from the way that Josh McCown handled himself in the role. [Chicago Sun-Times]
-Brandon Marshall had himself a busy weekend (as we'll see later in this post), but one of the things he did was host a motorcycle rally for his mental health awareness foundation. [Daily Herald]
-The Bears got a new running back in Ka'Deem Carey in the NFL Draft in May, but the St. Louis Rams did too, and Tre Mason is looking to fit in with his new team. [Shutdown Corner]
-Finally, Bears players really got behind the Blackhawks on Sunday night:
Win, lose, or draw, I still ride with my @NHLBlackhawks .#EndOfStory — Lance Briggs (@LanceBriggs) June 2, 2014
Hawks game with the young buck @kbfuller17 !!! NFL Sundays ready now!!! pic.twitter.com/aW35ZXIBzZ — Tim Jennings (@HennOrJenn26) June 2, 2014
But Brandon Marshall did more than just cheer for the team on Twitter. He attended the Hawks' game (which they unfortunately lost) and ended up meeting an NBA legend in the process.