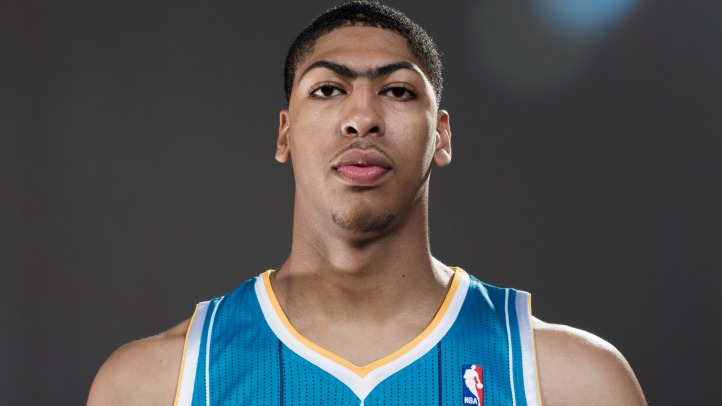 After being drafted first overall in June's NBA Draft to the New Orleans Hornets, Englewood native Anthony Davis knew that by playing in the Western Conference, he'd only get to play in front of his hometown crowd once a year.
This being his rookie season, Davis' trip home to Chicago to play the Bulls on Nov. 3 was supposed to be a special one. He rented a luxury suite for his family and friends to come watch him play at the United Center and he was excited.
But that all came to a screeching halt on Nov. 2 when an inadvertent shot to the head from teammate Austin Rivers left him with a mild concussion. Under the NBA's new concussion policy, the diagnosis prohibited Davis traveling to Chicago with his teammates and he was forced to watch the game on television in New Orleans.
"It was tough missing that game in Chicago," Davis told NBC Chicago while in Milwaukee last Saturday to play the Bucks. "You always want to go back and play in your hometown – especially as a rookie – so it was very tough."
Because he missed the game against the Bulls, the trip to play the Bucks sufficed as a homecoming of sorts for the South side native who had more than 30 family members and friends in attendance cheering him on.
"It's the next best thing because it's close to the crib," said Davis on playing in Milwaukee. "All my family came tonight, so that's a good thing because I get a chance to see them. But I'll get a chance to play in Chicago next year. I'll be fine."
So far, Davis has been having an outstanding rookie campaign for the Hornets averaging 16 points, eight rebounds and 2 blocks for the Hornets, but like most first year players, he's still finding his way in the league.
"I'm still getting used to everything. It's a fast paced game and you have to play hard at all times. But I enjoy it; I love it, actually. I just can't wait to get out of this rookie thing."
The life of an NBA rookie is tough one both on and off the court. Not only are you adjusting to a new lifestyle that has you flying all over the country and playing basketball games in different cities, hundreds of miles away, on back-to-back nights, but you're also subjected to hazing by your more established, veteran teammates.
From wearing Hello Kitty backpacks to buying breakfast and carrying bags, the life of a rookie isn't easy. Fortunately, AD's team is so young – there's only one true veteran in Roger Mason Jr. – he doesn't really have to worry about any of that stuff.
"Hazing? Nah, I don't really get that," said Davis. "All I have to do is bring Roger [Mason Jr.] a USA Today newspaper every morning, that's it.