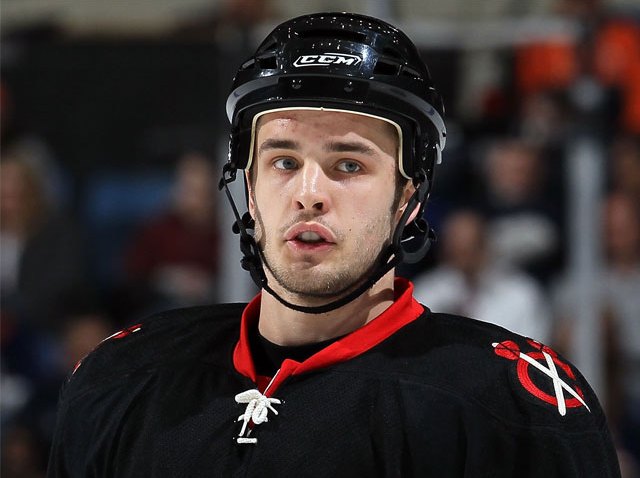 An almost all-Hjalmarsson edition. I've been hard on Hammer all year, and part of the reason is the perfect illustration about why the metrics I like don't cover all like they almost do in baseball. The eye test in hockey is almost as important as some of the outlying stats. In baseball, everything is based off of one event, pitcher vs. hitter. You can measure that. But in hockey, you have to see the play. So my eye test still shows Hjalmarsson not being the physical force that he's always been promised to be, and turnover prone far too often. However, some of the numbers suggest he's been far more solid than that.
0.71 - Hammer's Behind The Net Rating. This means for every 60 minutes he's on the ice at even-strength, the Hawks are almost a goal better off. He has the lowest goals-against per 60 as well among the Hawks defensemen. It's impressive considering he's not creating much offensively, and also might speak to how well Nick Leddy is creating offense without his help.
0.142 - Hammer's Quality of Competition, which is also highest among Hawks defensemen. Some of this is inflated from the first month of the season, when he and Seabrook took the toughest assigments while Duncan Keith and Nick Leddy performed their street puppet show. So he's putting up the plus Rating while facing stiff opponents.
6.42 - Hjalmarsson's goals per 60 against while shortanded. This isn't a very impressive number, but it's best among the Hawks blue liners.
What do we conclude? Well, the eye test isn't ruled out by these numbers. But what we can say is that Duncan Keith's numbers are all worse than Hammer's, so some of the Hawks defensive problems that can't be collared on the goaltending probably have more to do with him than Hammer. Still, Hjalmarsson has plenty of room to improve, and it would be welcome if he did.