And here we were hoping for an easy summer.
In one sense, it has been. The only things that have happened since the Hawks put the sticks and skates away was that Corey Crawford was re-signed, and assistant GM Kevin Cheveldayoff became the head guy in Winnipeg (and is already very, very cold). Other than that, the Hawks haven't been up to much. And other than the draft, they're not going to be for the next couple weeks.
That's because there's a moratorium on signing your own free agents beginning tomorrow. You can still negotiate with them, but you can't sign anything (or at least you can't announce that you've signed anything, as handshake agreements probably happen). This period has been lifted in the past but I haven't seen any releases regarding that this summer. Mostly, it's probably so teams can focus on the draft at first, which is coming up next week. But other than that I can't tell you the reason.
If you're waiting for news on all the restricted free agents the Hawks have -- Frolik, Brouwer, Campoli, Kopecky, Stalberg -- you're going to be waiting a little more.
Why, you may ask, was Crawford sewn up but not these other guys? Glad you asked! There are two reasons. One is that Crawford was always the top priority, and they couldn't really budget the rest of the team without him locked in. Second, and more importantly, Crawford was always going to get a hefty raise from his qualifying offer. The Hawks knew this, Crawford knew this, vitally Crawford's agent knew this. They were playing from a different field.
In the case of all the other Hawks' restricted free agents, it is likely that GM Stan Bowman is trying to bring them in for their qualifying offer or thereabouts. Those have to be sent out by June 27th (and if Bowman gets that right it'll be the second consecutive summer that the Hawks have gotten it right. Mighty trees from little acorns!), and those players can accept them as soon as July 1st. If they don't, they will at least be the basis for negotiations. Whereas Crawford was always going to dwarf his Q.O., the remaining guys probably (or hopefully) can't get too much more than that Q.O. would be on the open market. Or at least that's the bet that the Hawks seem to be making. Hopefully it doesn't blow up in their face.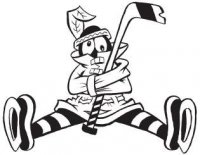 Sam Fels is the proprietor of The Committed Indian, an unofficial program for the Blackhawks. You may have seen him hocking the magazine outside the United Center at Gate 3. The program is also available for purchase online. Fels is a lifelong 'Hawks fan and he also writes for Second City Hockey .