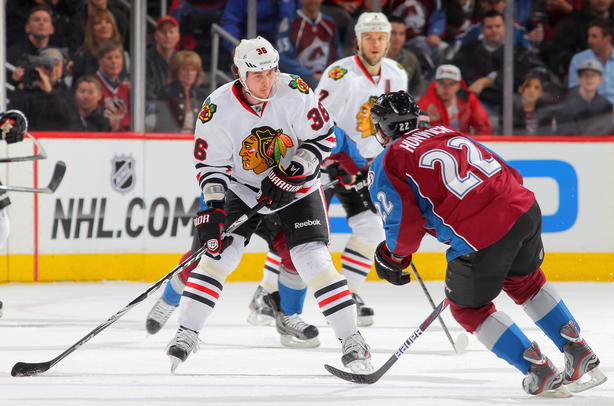 Sunday night is going to be a bit different than previous nights at the United Center. Instead of fans buzzing about whether the Chicago Blackhawks' incredible start can continue, they'll be focusing on how the team will respond after a 6-2 drubbing at the hands of the Colorado Avalanche on Friday night.
What lessons will they have to employ in order to find success in Sunday's tilt with the Edmonton Oilers and beyond? Here are three things that Joel Quenneville and company will likely hammer home with the guys as they prepare to skate tonight.
Winning face-offs must be a priority.
The Blackhawks' style, as any pundit on a hockey broadcast will happily tell you, is a style predicated on controlling possession of the puck, and the first step to doing that is performing well in the face-off circle. Friday's game against the Avalanche saw the Hawks get thoroughly dominated in this regard, losing 36 of 53 draws, but this isn't an isolated incident for the team.
Out of their last seven games, the Hawks have only won the overall faceoff numbers once, a 32-29 advantage they got against the Minnesota Wild last Tuesday. This dearth of ability to win draws is hammered home by how poorly the team's centers have been performing. Outside of Jonathan Toews (58.8 percent), no other Hawks center is winning more than 45% of their face-offs, with Dave Bolland (44.8 percent), Marcus Kruger (44.6 percent) and Andrew Shaw (43.5 percent) rounding out that group.
The numbers get even worse the deeper you go. Kruger is losing 59 percent of his shorthanded face-offs this season, and Dave Bolland is actually losing a majority of his faceoffs on the power play. Add to that Shaw's incredibly bad performance in even strength faceoffs, and you have the Hawks starting off possessions without the puck all over the ice.
They are going to need to get that issue taken care of soon, because with games on the slate against quick teams like Edmonton and Vancouver, they have to be able to win the puck in clutch situations to control the tempo, and ultimately, to win.
Quenneville must stay patient with line changes
Throughout his tenure with the Blackhawks, coach Quenneville has been known for his willingness to shuffle up his lines with astonishing frequency. That tendency has diminished this year though, with Quenneville running the same lines with minor exceptions on the fourth line and when Bolland missed several games due to an upper body injury.
In the team's last game, however, Quenneville had to really shuffle the deck with the absence of Patrick Sharp. He broke up the team's third line of Bryan Bickell-Shaw-Viktor Stalberg, which has been one of the team's most successful groupings, and put Bickell up on the second line with Patrick Kane and Bolland instead. The experiment really didn't work, and the only line that really showed any punch was the top group of Brandon Saad-Toews-Marian Hossa.
Line chemistry is crucial when you play an aggressive offensive game like the Hawks do, so it's going to take a bit of time for any new line combinations to take hold. Quenneville hasn't been known for that, but it's up to him and up to the players to try to make the new groups work.
The team's mental edge must remain sharp tonight
Finally, there is a light at the end of the tunnel for this weary team. After tonight, they will have played seven games in 11 days, and they were clearly playing with a great deal of exhaustion in the high altitudes of Denver on Friday. When the final horn sounds tonight, they will get three days off before playing the Columbus Blue Jackets on Thursday, and the temptation will definitely be there for this team to check out a few hours early for their first sustained break in quite a while.
Not only will the Hawks have to answer that early checkout challenge, but they will also have to keep in mind the possible letdown after seeing their points streak come to an end Friday. Losing for the first time in regulation generally isn't a big deal for a team, but when you've gone so long without doing so, there is the potential for there to be a bit of depression in the locker room.

In order to avoid both of these pitfalls, the Hawks will have to come out and play a solid 60 minute contest tonight. They will need to stay aggressive on the back check, be smart with their passes, and crash the net with the tenacity that they have displayed all season long. If they can do those things, the sour feelings from Friday will melt away, and the team will be in a position to go into their three day respite on a positive note.