While I hate to ruin the buzz of a two-game winning streak (we take what we can get around here), the Cubs made a transaction yesterday that once again proves their GM isn't very good at his job, and his boss is oblivious to this.
The transaction was the promotion of Chris Carpenter to the 40-man roster and to the active major league roster. Carpenter is 25, and had been considered one of the more prominent Cubs' pitching prospects in their system.
Two years ago he had an ERA of 2.82 in Single-A and Double-A. Last year, mostly in Double-A, he managed a 3.41 ERA. Not the most impressive numbers, but ok. This year, he was moved to the bullpen, for reasons no one's really been able to explain. He's only been a so-so strikeout guy, never managing more than one per inning. It would be hard to conclude that he'd make a good closer one day, as the prominent closers strike a lot of people out.
Anyway, the move was made, and Carpenter struggled out of the pen at both the Double-A and Triple-A levels.
Nevertheless, he got the call yesterday. It's not unheard of if he'd been truly promising the past two years, and just had a bad start. But Carpenter had just barely scratched "good". But the Cubs had a gap in the bullpen, and somehow there isn't a single guy at the Triple-A level who they can count on, having burned through Justin Berg and Jeff Stevens.
Now Carpenter has had an option year -- a year in which you can ship him back and forth between the minors without him clearing waivers -- burned. If he actually turns into a thing, he's a year closer to free agency and arbitration because Jim Hendry couldn't stock Iowa (the triple-A affiliate) with a pitcher who could tie his shoes, much less get major league hitters out. We don't know if Carpenter is that guy either, but having him here before he's proved ready probably isn't going to help.
What's laughable about all this is Tom Ricketts's constant assertion that the Cubs will build through the system. Hendry has been in charge of that system in some capacity for 15 years. And here we are, with him unable to fill in a bullpen spot with anybody when Kerry Wood goes down. That system that Ricketts seems so enamored with has produced exactly one above-average position player in Starlin Castro, and the jury is still very out on him.
Keep with this rudderless ship, it's working wonders.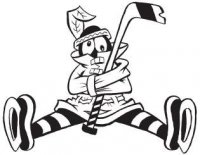 Sam Fels is the proprietor of The Committed Indian, an unofficial program for the Blackhawks. You may have seen him hocking the magazine outside the United Center at Gate 3. The program is also available for purchase online. Fels is a lifelong 'Hawks fan and he also writes for Second City Hockey .
Published at 2:53 PM CDT on Jun 16, 2011 | Updated at 3:15 PM CDT on Jun 16, 2011