I'm sure during their 103 years in the desert of failure, Cubs fans have worshipped at the feet of many a savior that we've worshipped when they came to town.
I'm sure there are numerous men who've strolled onto Clark and Addison and we've all told ourselves, "This time." And all of them headed back out of town or into the shadows cursing and muttering to themselves, their dreams and ours of being "The One Who Did It" lying in tatters. But whatever, today is not a day for that.
Because the Cubs haven't given us anything to dream about in three years. So today, with the reports buzzing that Theo Epstein is leaving Boston to come to Chicago (a move I've made myself and really couldn't recommend any higher), Cubs fans are coming out of the cave and daring to dream again. At least this time, the Cubs have opted for someone who knows a little something about taking a team and fan base from the depths of loser-dom and bringing them into the light.
There was another genius in my lifetime who came to the Cubs to build a Rome where only Sodom had been. His name was Andy MacPhail. He helped build two World Series winners in Minnesota in four years. We was the wunderkind at the time. It didn't work. He ceded power to Ed Lynch, who goofed his way to a '98 Wild Card berth that lasted about 13 minutes -- just long enough to blow out Kerry Wood's arm and pretty much set back his career five years. Lynch begat Jim Hendry, and you can't wash away the three NL Central titles he did bring here.
But what's important to remember today is that in the past five years, the game had passed Jim Hendry by. Sure, he was able to spend enough money to combat that for a couple years -- augmented by playing in a division where no other team has close to those resources -- but now the Cubs lie in ruins. Players aren't evaluated totally on their "tools" now, but how they play the game. Hits aren't as important as getting on base. Pitchers have to throw strikes, not strike people out. Defense is paramount, not something you hope you can put together just well enough. Hendry knew nothing of this, or didn't want to. Theo Epstein is all about it.
A lot will point to the Red Sox two years without a playoff berth with that payroll. A lot will point out bad contracts to John Lackey and Carl Crawford. We know something about bad contracts here. When Crawford returns to form next year after taking a year to get accustomed to the sports second biggest pressure cooker, a lot less will complain. There's no defending Lackey's. But the thing is, there are only a handful of GMs with access to a pocketbook that allow them to make mistakes. If more did, more would. We know about Hendry's bad deals. How do Alex Rios and Adam Dunn look on the Southside? A.J. Burnett in New York? The entire Mets team? The Dodgers pre-McCourt divorce? It happens everywhere with the bank account to do so.
But the other side of Epstein's ledger is pristine. The Red Sox lineup is littered with their own products. Jacoby Ellsbury, Dustin Pedroia, Kevin Youklis, Jed Lowrie, Jonathan Papelbon, Dan Bard, John Lester, Clay Bucholtz. Adrian Gonzalez and Josh Beckett were acquired with assets that Epstein drafted. While that team faltered this year and last, you can't blame Theo for injuries -- which a lot of it has to do with. That's two Cy Young candidates and a former MVP and MVP candidate in that list. You can't argue.
What's better is Theo's insistence on the President title. First, it removes noted-doofus Crane Kenney from anywhere near the baseball operations. While it's unclear what power Kenney had in baseball decisions, what is clear is he was an utter dolt, and utter dolts need to be far away from the things that matter to fans. Secondly, it probably means Theo is going to get what he wants through the entire system. That means that from the lowest level to the major league club, players will be developed how Theo wants. That's defense. That's taking walks. That's plate-discipline. He'll get to install what coaches he wants down on the farm. That builds a winner for years.
The Cubs still have a financial advantage over the rest of the division. There's no Yankees Theo always has to one-up. He can build a franchise that lords over the Central for a decade, and he's the man to do it.
It is a day worth celebrating, hoping, and dreaming.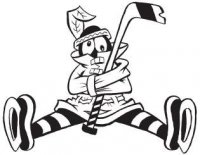 Sam Fels is the proprietor of The Committed Indian, an unofficial program for the Blackhawks. You may have seen him hocking the magazine outside the United Center at Gate 3. The program is also available for purchase online. Fels is a lifelong 'Hawks fan and he also writes for Second City Hockey .