Sox fans have always had this fascination with the grindy left-fielder. They love the guy who looks like he's trying really hard, dives all over, and slaps the ball around, and steals bases. They ignore the fact that he looks like he's trying real hard because he has not talent, has to dive all over because he gets bad breaks on the ball, and slaps the ball around because he can't walk and has no power.
It started with Scott Podsednik. Because he was somewhat active during the World Series championship year, people thought he was a big part. He wasn't. His OPS+ rating was 87 -- 100 is average. He had an OPS of .700, which is just above acceptable only if you're on the very tips of your toes in the pool and lean your head back.
Juan Pierre came after Podsednik, and he's even worse. But sadly, the Sox fan that believes in him most is the one filling out the lineup card, Ozzie Guillen. Pierre's OPS+ this year is 71. That's beyond awful. According to his Wins-Above-Replacement -- a measure of how he's contributing vs. the most average of players would -- he's already cost the Sox more than one win this season.
But you don't need the stats to tell you that he's an awful fielder with no arm. You don't need numbers to tell you that he can't hit for anything more than a single, and because he never takes a walk he has to hit over 220 singles in a season to be considered effective. You can't steal first, after all.
And yet, Pierre finds himself consistently in the lineup over Brent Lillibridge, who's having a wonderful season. Granted, Lillebridge serves the role that so entices Chicago baseball fans with false promises. He's the bench player with the big numbers who most likely would get exposed with more at-bats, but fans don't know that. Still, Lillibridge has seven homers, has played a wonderful left field, and is rocking an OPS+ of 146. Even if he would eventually get exposed, you might as well ride it out until he does. He's actually contributing, unlike Juan.
There's also prized prospect Dayan Viciedo at Triple-A. There isn't a skully he isn't crushing at Charlotte. Left-field is also the only position he can play, as he comes with hands made of silly puddy when playing defense. But he provides pop, which the Sox don't have outside of Quentin and Konerko, and Quentin hasn't had his injury yet.
So why is Ozzie getting his guy in the lineup? Is Kenny Williams afraid of picking the last fight before he has to fire Ozzie? Does Kenny want Pierre in the lineup? Has he already told Ozzie to play Lillibridge more and Ozzie merely isn't listening? If any of those questions have answers, they surely aren't encouraging. Watch for when Viciedo gets the call-up. If and when he does, WIlliams will not be bringing him here to sit on the bench. If Ozzie continues to throw out Pierre over Viciedo, it very well may be his Waterloo.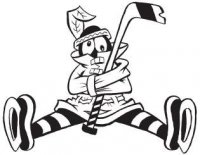 Sam Fels is the proprietor of The Committed Indian, an unofficial program for the Blackhawks. You may have seen him hocking the magazine outside the United Center at Gate 3. The program is also available for purchase online. Fels is a lifelong 'Hawks fan and he also writes for Second City Hockey .
Published at 3:55 PM CDT on Jun 21, 2011