Mexico's cross country skier German Madrazo finished last in the men's 15km cross-country race Friday at the Winter Games but placing 116th did not dampen his Olympic spirit.
Madrazo, 43, who took up skiing a little over a year ago, was beaming and proudly waving a Mexican flag he grabbed as he headed to the homestretch. He crossed the finish line nearly 26 minutes behind gold-medal winner Dario Cologna of Switzerland. Cologna, along with fellow cross-country skiers from Colombia, Tonga, Morocco, and Portugal waited for Madrazo to complete the race and lifted him onto their shoulders in celebration.
The inspiring moment had people commeting on social media.
Mexican cross-country skier German Madrazo crossed the finish line last, but he was all smiles as he did it proudly carrying his nation's flag. ❤️ pic.twitter.com/8qILNmFjyE

— NBC Olympics (@NBCOlympics) February 16, 2018
Such a lovely moment as the last few finishers wait for Mexico's Madrazo to finish in 115th in the men's #CrossCountrySkiing#bbcolympics#pyeongchang2018pic.twitter.com/aRMYHmbcpX

— Caroline Chapman (@caz_chapman) February 16, 2018
These two pictures are probably the standouts of #PyeongChang2018 - sums up the Olympic spirit.

Mexican skier German Madrazo may have come last, 25 minutes behind the winner, but his fellow skiers were still there to cheer him across the line. Goosebumps.

(credits to Reuters) pic.twitter.com/EZN1dmYPY7

— Reginaldo Rosario (@Regi1700) February 16, 2018
The Mexican cross skier was so happy he even finished the race, he celebrated more enthusiastically than the actual winner. From time to time you can still see the pure joy of challenging oneself in the games and it warms my heart.

— sheep (@sheepofsheep) February 16, 2018
One of the athlets waiting for Madrazo at the finish line was Pita Taufatofua, the "shirtless" Tongan who has marched bare chested and oiled up in the last two Olympics — summer and winter. A newly minted cross-country skiier himself, Taufatofua finished in 114th place and was grateful he made it before the course closed for the night.
"I would rather finish toward the end of the pack with all of my friends than somewhere in the middle by myself," said Taufatofua, who took up the sport last year after competing in taekwondo at the 2016 Rio Games. "We fought together, we finish together."
Taufatofua and Madrazo and several other athletes literally went around the world to qualify for the Winter Games, forging tight friendships along the way in pursuit of a common goal.
They tried cross-country qualifying races in Armenia, Poland, Turkey and Austria. And failed.
Finally, they traveled to Iceland and made it in the last qualifying race before the Pyeongchang Games, spending nearly every last penny they had to reach their Olympic dream.
Feb. 17 Olympics Photos: Krueger Wins Silver in Speedskating
"Pita and I spent two months, fighting and fighting every day," Madrazo said. "One day we were completely out of money and we had one last chocolate bar. There was nothing left and we split that chocolate bar and said, 'Well brother, we live to fight another day.'"
Madrazo had to call home to Mexico to get a flight back from Iceland, having only bought a one-way ticket because that was all he could afford.
His story is not unique.
The 15-kilometer freestyle is the United Nations of cross-country skiing races. There was Kequyen Lam of Portugal, Sebastian Uprimny of Colombia and Klaus Jungbluth Rodriguez of Ecuador among the late finishers after most of the crowd had left. Syed Human of Pakistan and Samir Azzimani of Morocco were there, too.
None of them are elite cross-country skiers, but they were all eager to represent their country at the Pyeongchang Games.
The work those men put in to qualify for the Olympics was not lost on Cologna, a three-peat gold medalist in the event.
"I think it's good to have many skiers from many countries here," Cologna said. "I think we have around 60 nations. I suppose we are fighting for medals here, but it is good to feel this Olympic spirit. We have had a lot of bad news (in the world) recently, so it's good to keep up this Olympic spirit."
As Madrazo corssed the finish line, Taufatofua was there to greet him with a hug.
Olympic Mascot Soohorang Takes a Spill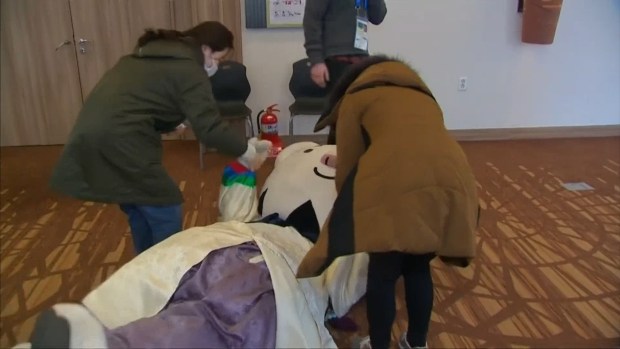 "Today, Pita and I hugged and said again, 'We live to fight another day,'" Madrazo said. "It made me cry. It was the best feeling ever."
The popular Taufatofua said he will be back. He plans to compete at the 2020 Olympics in Tokyo, but wouldn't say in what sport. He said it be may be in something that includes water.
"Three Olympics, three different sports," he said. "Let's see if it can be done."
For now, he has another goal.
"My focus right now is to help Tonga get rebuilt," Taufatofua said. "We got hit by a cyclone, so I want to focus on that."
That's another thing worth fighting for.