The United States pulled off its biggest Olympic hockey upset since the "Miracle on Ice" Sunday, stunning Canada with a 5-3 win to advance to the quarterfinals.
Brian Rafalski scored two goals and set up another and Ryan Miller held off a flurry of shots, all just one day short of the 30th anniversary of America's greatest hockey victory — the unexpected win over the Soviet Union at the 1980 Lake Placid Games.
Canada outshot the United States 45-22 but were stymied by Miller, who made 42 saves in the performance of a lifetime. With the victory, the U.S. hockey team earned a bye into Wednesday's quarterfinal round.
As for Blackhawks players, Jonathan Toews had two assists while Brent Seabrook and Duncan Keith each had one assist for Team Canada. Patrick Kane came away with no goals, no assists, and only one shot on goal for Team USA.
The victory capped another banner day for Team U.S.A., as ski star Bode Miller finally fulfilled his expectations and won his first Olympic gold medal, using a blistering slalom run to complete a super-combined victory.
Miller skied one of the fastest slalom legs for a two-run combined time of 2 minutes, 44.92 seconds Sunday.
Miller has also won a silver and a bronze at the Vancouver Games — a sharp contrast from his no-medal performance in Turin four years ago, when he made more headlines for his late-night partying than his skiing.
The rivalry on the ice between the U.S. and Canada started Sunday afternoon, as Canada's undefeated women's curling team beat the U.S. 9-2 in session 8.
The men's curling team didn't fair much better as David Murdoch's world champion British team beat the U.S. 4-2, all but ending the American run in the competition.
In ice dancing, Canada regained some glory late Sunday as Tessa Virtue and Scott Moir edged Americans Meryl Davis and Charlie White in the original dance portion of competition.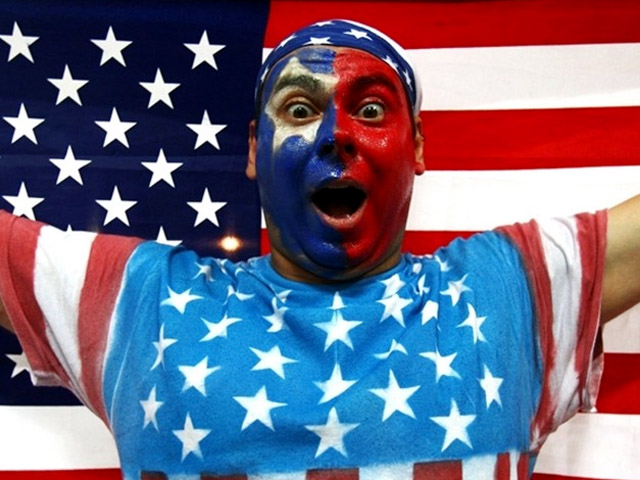 The Vancouver Winter Games are here and Team USA is rocking.
Check out our full coverage.
Vote for your favorite photo.