Today has been dubbed Ron Santo Day at Wrigley Field. Seemingly the hot new trend among teams honoring their legends, the Cubs will unveil a statue of Santo outside Wrigley at about 5:30 p.m. Then his son will talk about what a wonderful honor this is and how Ronnie would have loved it, and during the broadcast there will be a lot of gushing about his woeful hairpiece and more of the like.
And I won't care at all.
I am one of the few Cubs fans who do not worship at the altar of Ron Santo. I didn't even like him. That's not to say I don't appreciate all he's done for juvenile diabetes research, because I do. But everything else? You can have it.
I'm sure if I had ever met the man, I would tell you he was one of the nicest guys I've ever met. Everyone else says so. And while I've said some pretty horrible stuff about him, borne out of true distaste but poorly exaggerated in desire of shock value, I don't really have any views about the man himself. If he was a great guy, that's wonderful. If he wasn't? Whatever.
But so many things about him irked me.
On the lowest level, he reduced the Cubs radio broadcast to unlistenable. Pardon me if i would have happily forgone his never-cute grunts or screams and actually wanted real analysis.
Some gems that I remember from recent years from Santo were when describing a perfect lead-off hitter as, "You want him to be patient but aggressive." Or when asked on a 3-1 pitch with a runner on first if manager Lou Pinella should send the runner, "Well, it's up to Lou." Thanks, Ron. These were the only two times the man completed an actual sentence in those years, I believe. Listening to Keith Moreland now has been such a joy, because it's an actual baseball broadcast instead of some Vaudevillian act that got rejected by management.
I'm not seeing the big picture, you'll say. You're probably right. Santo represents so much more than just a radio analyst. I don't buy it. His shameless push for the Hall of Fame wasn't anything but that. And Santo probably deserves to be in the Hall based on his numbers. But when you act like a jackass on the field for your entire career, and Santo did (his opponents didn't exactly care for those heel clicks), you'll pay the price when you're counting on those former peers to elect you.
I won't be convinced that Santo didn't parade his affliction in order to gain sympathy votes into the Hall either. And I'll never get behind that. Tons have told me that I should appreciate how much Santo loved the Cubs. Well, I do. So do millions of others who weren't on the payroll or never played third base for them. But he had to go through so much just to get to the ballpark everyday, you'll come up with next. Yes, that's true, he struggled with his affliction greatly. But he struggled to go watch a baseball game. He wasn't working in a mine. And one of the reasons that Santo's disease ravaged him so much were self-inflicted. Santo didn't always take the best care of himself, this we know.
It always rankled me when Santo tried to put himself out front of any Cubs success, as if he had anything to do with it. You could always find him in a Division Championship shirt with the champagne as if he was a coach whenever the Cubs won. That's fine, maybe the players wanted him there. But there was always this vibe that "they only did it for Ronny" that he loved to portray.
But most of all, Santo represents that lovable loser, it's OK we don't win because we love the Cubbies so much, tour buses from Iowa, isn't it wonderful to be a Cubs fan aura that should embarrass Cubs fans. We're not lovable. It's not wonderful to be a Cubs fan. It's torture. It's torture that we all hope will be worth it one day, and I still think it will. But we have nothing to flaunt, nothing to be proud of, other than our perseverance. And even that could be considered worthy of being committed.
So Santo will have another day today at Wrigley, and if I were an acquaintance I would probably smile for him. But everything that goes with it? You can have it.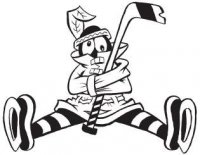 Sam Fels is the proprietor of The Committed Indian, an unofficial program for the Blackhawks. You may have seen him hocking the magazine outside the United Center at Gate 3. The program is also available for purchase online. Fels is a lifelong 'Hawks fan and he also writes for Second City Hockey .
Published at 10:17 AM CDT on Aug 10, 2011 | Updated at 1:32 PM CDT on Aug 10, 2011