If there's one thing I can thank Jim Hendry for, it's that stroll he took along the Vegas Strip in December 2008 during baseball's Winter Meetings where he decided to not trade for Jake Peavy. That was the big rumor all that week, and Hendry pulled out at the last minute. I wish I could make such important decision when I'm walking down The Strip. About the most important one I've ever come up with there is making sure I get the right foot in front of the left one. Sometimes along that street that's a major challenge.
Maybe Sox fans haven't grown weary of Peavy's act, but I sure have. And I wouldn't be surprised if his teammates have as well. We know the coaching staff got real sick of his tough guy act that didn't allow Peavy to tell them when he's sore and hurting. But nothing angers teammates more than a player who's been underwhelming on the field who's always right there for the cameras and microphones. And it probably doesn't help that Peavy is always calling out his teammates when he is in front of the tools of the media.
Peavy in two and a half seasons has given the Sox 30 starts and 187 innings. His ERA this year is over 5. The Sox have had to adjust the structure of their whole team for him, going to a basically unheard of six-man rotation to compensate for the fact that they just don't know when and how long the legos that comprise Jake Peavy will stay snapped together.
And there he was a couple weeks ago talking about how the team wasn't ready to play one game and weren't "laying it on the line". And last night, after puking up a lead to the world-beaters known as the Royals, there was Peavy saying, "I had to be pretty good with only two runs and I wasn't good enough." Jake, "I wasn't good enough" would have been the proper thing to say. The first part makes it sound too critical.
If you're Jake's teammate, and you see a guy who can't get to the post for more than three weeks in a row while taking in half the national deficit in salary, whom your team has had to structure half the team around to cater to him and the paper mache of his body, and he's hinting that you're not doing your job? That won't last long.
There was a time when Peavy was a wonderful, dominant pitcher. And there was a time when his Southern, down-home, get out there in the dirt personality probably played well. But it is not now for either.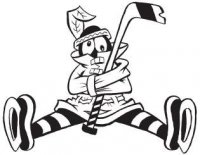 Sam Fels is the proprietor of The Committed Indian, an unofficial program for the Blackhawks. You may have seen him hocking the magazine outside the United Center at Gate 3. The program is also available for purchase online. Fels is a lifelong 'Hawks fan and he also writes for Second City Hockey .
Published at 4:13 PM CDT on Jul 20, 2011