Last night was perhaps the most incredible ending to a baseball season in recent history, if not all of it. Four games, four teams all vying for two playoff spots. Multitudes of possible outcomes. Drama. Heroes. Goats. Insane odds. Jaws dropping while watching it.
And there were Chicago baseball fans, in the cheap seats. As usual.
That's the feeling I couldn't escape last night. While I immensely enjoyed what will be a once in a lifetime night of baseball, I couldn't help but be jealous. And once again that feeling that when all the important baseball is played, all the moments that happen that will be talked about for years, when those highlights that will define this season were created, that the Cubs will never be a part of it.
I didn't even know that the Cubs were getting pounded by the Padres to end the season. Somehow that's perfect, the Cubs being bad, out of sight and out of mind. And before all that, the White Sox were blowing a lead in the 9th, a malady that destroyed their respitory system all year. Glorious baseball everywhere, and there are the Cubs and Sox going out with a sad whimper.
I guess we should all be used to this by now, and maybe Sox fans don't feel quite the pang that i do as a Northsider. Either way, both sides of town are probably glad it's all over. Sox fans had grown tired of the macho soap opera that their GM and coach had become. Cubs fans just wanted an end to the simply pathetic displays we were treated to this season.
And yet, as always this time of year, there's nuggets of hope. With The Mouth Of Venezeula taking his very tired act to Miami, Sox fans can hope that their roster will be managed correctly instead of in spite of their GM. The Cubs might be overhauling their baseball operations to actually be part of this century. Will it lead to immediate results? Probably not. And with the people doing the hiring, there's no guarantee they'll get it right.
But it's all we got, right?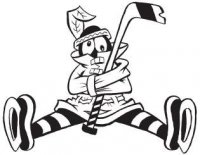 Sam Fels is the proprietor of The Committed Indian, an unofficial program for the Blackhawks. You may have seen him hocking the magazine outside the United Center at Gate 3. The program is also available for purchase online. Fels is a lifelong 'Hawks fan and he also writes for Second City Hockey .
Published at 6:00 PM CDT on Sep 29, 2011