Sometimes I think there's nothing worse than being a Cub fan with a brain. It would be so much easier without either or both.
First the frustration with the organization. A couple weeks ago, when the Cubs and Red Sox met up at Fenway to discuss how to keep a decrepit old dump long enough to still print money, the Cubs' brass went to great lengths to tell us how they wanted to replicate what the Red Sox organization had done.
They clearly have no idea what that actually means, at least on the field.
The Cubs look at the long list of players Boston has brought through their system, and obviously would like to replicate that, but haven't figured out why the Red Sox are able to.
They built a system based on players who get on base and pitchers who pound the strike zone. Look at the batting stats for the Iowa Cubs and Tennessee. Iowa has only three guys who have drawn more than 20 walks, and they are Bobby Scales, Bryan LaHair, and Fernando Perez. Not exactly the future, as all of them were alive when Appetite For Destruction was released. While the batting averages in Tennessee are encouraging, they only have two guys who have walked over 20 times (thankfully one of those is Brett Jackson who is probably the leading positional prospect the Cubs have, but he only boasts about a half season of success at the Double A level, and wouldn't appear to be ready for more than anything but a September call up).
Meanwhile, every pitcher who comes up from the minors has about as much ease finding the strike zone as Patrick Kane does finding the exit to the bar at 2 a.m. While they bleat on and on about replicating the Red Sox, the key to Boston's organization is their success on the field, and the Cubs couldn't be farther away from that, and worse yet they don't seem to know it.
My frustration with the fans tops this. I've seen various blogs and heard calls pleading for more time for LaHair, Snyder, and Montanez, none of whom are under 29! The calls for more Tony Campana are cute, but we're talking about a pure singles hitter who didn't slug over .384 in the minors. Yes, the speed is nice and I know Cubs fans are unfamiliar with what an actual center fielder looks like, but really, what is the ceiling on Campana? "Call up the kids! Call up the kids!" What kids? Jackson, Rebel Riedling, and Trey McNutt are at least a year away and wouldn't benefit from being here. If you need evidence on what can happen when you rush a player to the majors, look no further than the impressionist anarchy that Gordon Beckham and Chris Sale have been for most of the season on the other side of town. Josh Vitters is stalled, LeMahieu is a corner infielder who can't hit the ball out of the park (already got two of those in Aramis Ramirez and Blade DeWitt).
It's going to take a GM with real creativity and imagination to make this work with the limited parameters set. Sadly, that GM isn't here yet.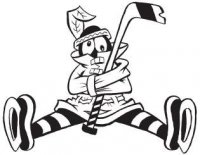 Sam Fels is the proprietor of The Committed Indian, an unofficial program for the Blackhawks. You may have seen him hocking the magazine outside the United Center at Gate 3. The program is also available for purchase online. Fels is a lifelong 'Hawks fan and he also writes for Second City Hockey .
Published at 12:11 PM CDT on Jun 13, 2011