The undefeated season is out. I know, but put away the Kleenex.
The Hawks lost Friday night in a pretty sloppy, bad ice-y, nervous energy filled affair. Both teams seemed too anxious to start the season and prove something, and hence you basically got hurling on ice. There were lots of passes missing sticks by some margin, or bouncing off of them, or bouncing over them, or not even coming close.

The Louvre will not be asking for tapes of this any time soon.

Anyway, thoughts:
The first goal was a result of Nick Leddy and Duncan Keith being paired together. I can't think of another coach who would opt to not have one of the three best shutdown pairings in the league put together, but here you are Coach Quenneville. Seabrook and Keith need to be together, maybe one day you'll learn this. Leddy and Keith also gave up two breakaways against, but maybe that's not enough. I'm not on this system.

The Patrick Kane at center experiment lasted one period. For those of you that had that in the pool, please head to the windows. For the rest of us, keep in mind that even if Dave Bolland is healthy tomorrow, that will leave the Hawks with only two natural centers when you need four. Or it will as long as they continue to insist that Patrick Sharp is a wing.

The ice surface in Dallas was about as bad as I've ever seen, leading to a game that looked like toddlers trying to play basketball.

Niklas Hjalmarsson will get some grief for the second goal, but A) he had two Stars to deal with in the crease and B) Crawford has to catch that shot.

Other than that, Crawford was awesome.

Too many people are going to make a big deal out of the hit stats, forgetting that those are usually bent to the will of the home arena. The Hawks were hardly pushed around tonight, despite what the 37-18 desparity is supposed hits was.
One game people, how about some perspective?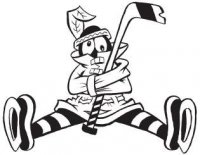 Sam Fels is the proprietor of The Committed Indian, an unofficial program for the Blackhawks. You may have seen him hocking the magazine outside the United Center at Gate 3. The program is also available for purchase online. Fels is a lifelong 'Hawks fan and he also writes for Second City Hockey .