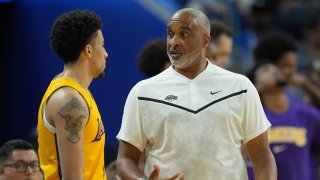 Who is coaching each NBA summer league team? originally appeared on NBC Sports Philadelphia
Las Vegas Summer League offers inexperienced players a chance to get accustomed to the NBA stage. While the new talent is gaining reps on the court, other members of their organizations are getting an opportunity on the sideline.
Just like the league's biggest stars, every team's head coach sits out summer league games. In their place, rising coaches get a chance to take over a bench during the 11-day event in Sin City.
Most of the league's summer league coaches are NBA assistants. In a few instances, G League head coaches will make the jump to the NBA for five games this summer. There are also some former All-Stars and a handful of other former NBA players who will get head coaching reps.
Before the action tips off Thursday night, here are the 30 coaches running the show at Las Vegas Summer League:
Atlanta Hawks: Nick Van Exel

Boston Celtics

: Ben Sullivan

Brooklyn Nets

: Adam Caporn

Charlotte Hornets: Jordan Surenkamp

Chicago Bulls

: John Bryant

Cleveland Cavaliers: Mike Gerrity

Dallas Mavericks

: Greg St. Jean

Denver Nuggets: Ryan Bowen

Detroit Pistons: Jordan Brink

Golden State Warriors

: Jama Mahlalela

Houston Rockets: Rick Higgins

Indiana Pacers: Ronald Nored

Los Angeles Clippers

: Shaun Fein

Los Angeles Lakers

: Phil Handy

Memphis Grizzlies: David McClure

Miami Heat

: Malik Allen

Milwaukee Bucks: Vin Baker

Minnesota Timberwolves: Kevin Burleson

New Orleans Pelicans: Jarron Collins

New York Knicks

: Dice Yoshimoto

Oklahoma City Thunder: Kameron Woods

Orlando Magic: Jesse Mermuys

Phoenix Suns: Steve Scalzi

Portland Trail Blazers: Steve Hetzel

Sacramento Kings

: Jordi Fernandez

San Antonio Spurs: Mitch Johnson

Toronto Raptors: Trevor Gleeson

Utah Jazz: Bryan Bailey

Washington Wizards

: Zach Guthrie
Copyright RSN