With the trade of Kosuke Fukudome to the Indians Thursday, in return for two prospects who are almost guaranteed to never sniff the city limits of Chicago (and if you're coming from the Gary side, that's not exactly a bad thing), the Cubs will turn the right field duties over to Tyler Colvin. And for the second year in a row, it'll be far too late and unproductive. Such as it is with the Cubs and the handling of their "prospects." Colvin is the perfect example of how Jim Hendry's Cubs can't draft, can't develop, can't scout, and can't handle their own.
Colvin was a first-round pick in 2006. No one other than the Cubs thought he was a first-round talent at the time, but they took him anyway. Colvin then went on to three minor league seasons where he never lit anything on fire. He never batted over .300, never learned anything remotely resembling plate-discipline as his on-base percentage never cracked .320, and he never slugged over .500.
Despite all that, Hendry was undeterred and out to prove he knew something about drafting baseball players. Combine that with a very solid showing in last year's spring training, and Colvin came north with the club to start the year. However, while wanting to rush his player, Hendry didn't combine that with the spine to tell his manager, y'know, the dude who works for him, to get Colvin into the lineup every day to further his development. So Colvin sat and sat, until Fukudome was so awful they had to get him out of the lineup and Soriano to get hurt.
At that point, all Colvin really displayed was some pop when he hit 20 homers in limited playing time. That's nothing to be sneezed at, but his plate-discipline was still woeful and his defense it average at best. He's a left fielder miscast as a right-fielder.
Things got worse this year. While the Ricketts were quick to plaster his visage on every campaign to promote their young players, Hendry left him without a position. Fukudome wasn't traded, neither was Marlon Byrd, and Carlos Pena was signed in an attempt to be relevant, closing up a first-base spot that Colvin could have filled with a winter of work. Why any of these moves were made is anyone's guess, though the Pena thing worked out all right, even though it was obvious then it was a one-year, stop-gap measure and the Cubs still considered Colvin a long-term solution somewhere in the field, rightly or wrongly.
So Tyler was left scrambling for at-bats in spring training, and his first-year manager Mike Quade with the job of shuffling him everywhere to get him enough at-bats to continue his development. However, Colvin completely solied the bed in Arizona, and was relegated to a bench role. What should spring training stats count for? Yeah, exactly. Zip. But it was a way out for Hendry to not overburden his manager, and Ty-ty sat.
So here was still a first-round pick rotting on the vine, no longer developing. It finally dawned on Hendry in May that this probably wasn't a good idea, and he sent Colvin to Iowa. But things haven't gotten any better for him there, where he was hitting a clueless and ugly .256 with exactly one walk. And now he'll get another short audition to prove things are different at the major league level.
Here you have a player picked too high for the wrong reasons, without any of the baseball tools but all the athleticism that most teams with functioning brainal fluid have disregarded long ago, who wasn't brought along properly, rushed to the majors before proving he belonged there, and then totally mistreated when he got there.
This is why the Cubs find themselves where they do, and why they need a complete overhaul of their baseball operations. Which they won't get. Enjoy.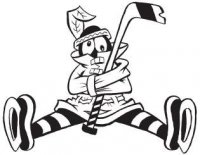 Sam Fels is the proprietor of The Committed Indian, an unofficial program for the Blackhawks. You may have seen him hocking the magazine outside the United Center at Gate 3. The program is also available for purchase online. Fels is a lifelong 'Hawks fan and he also writes for Second City Hockey .
Published at 12:30 PM CDT on Jul 28, 2011 | Updated at 12:40 PM CDT on Jul 28, 2011