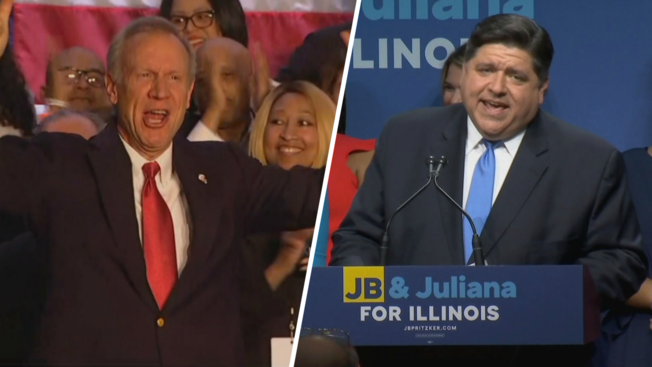 As the clock ticks down to Election Day in Illinois, polls indicated the state's first Republican governor in 12 years is feeling pressure from Democrat J.B. Pritzker.
Gov. Bruce Rauner on Monday rejected the polls' findings, continuing to hammer not only Pritzker, but also House Speaker Mike Madigan.

Rauner spent Monday in Illinois' collar counties with his wife at his side, and as he asked voters for a second term, he argued a Democratic Prtizker administration will lead to higher taxes.

"This election will determine whether you have to pay higher income taxes so you don't get to keep as much of your hard earned money," he said.
Pritzker headed downstate after a Chicago rally Sunday with former President Barack Obama, whose visit to the UIC Pavilion promoted a blue wave in Illinois.

"They want us to believe that people are struggling because they're just not trying hard enough," Pritzker said at the rally. "They want us to believe that teachers are overpaid and underworked."

Pritzker on Monday focused on President Trump, ignoring his opponent in Tuesday's election.
Rauner was outspent by Pritzker two-to-one in the most expensive governor's race nationally. Two other candidates are also on the ballot: conservative Sam McCann and Libertarian Kash Jackson.
Rauner has found that running as an incumbent with a record to defend has been far different than running as an outsider. With a day to go, he was peppered with questions about how his administration handled the Legionnaires' outbreak in Quincy.
"Our administration has focused, always focused, on safety and the health of our veterans," Rauner said. "They're our heroes, and the issue with that particular water tank, that was discussed with the CDC immediately in 2015."
Both candidates wrapped up their election appeals, with Rauner holding his final campaign appearance in suburban Lisle and Pritzker in Peoria.