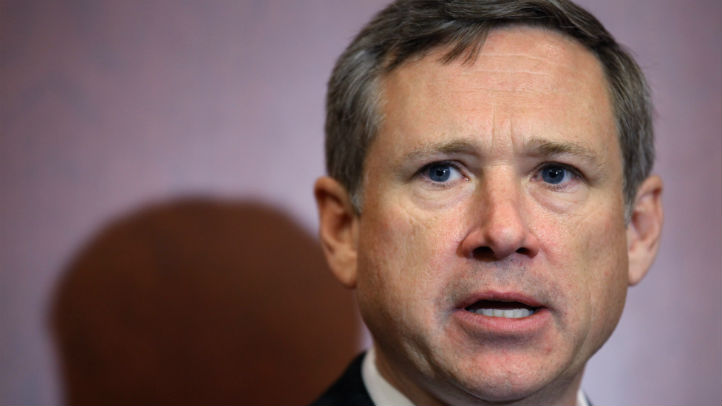 Sen. Mark Kirk responded Friday to Rep. Tammy Duckworth's accusation that his push to close American borders to Syrian refugees was aiding in the radicalization of Muslim extremists.
"For Tammy Duckworth to blame the junior senator from Illinois for Islamic terror shows that she is a naive fool not fit for office in the Senate," Kirk said on the John Howell Show.
This followed Duckworth's comments that Kirk's policies encouraged radicalized Iraqi refugees in Texas.
"They came as teenagers and they were radicalized because they were on those talk lines with ISIS because they see people like Mark Kirk demonizing Muslim and Islam and wanting to shut down our borders," Duckworth said. "That's how we turn people against us, is when we play right into ISIS' hands."
Kirk initially took to Twitter last Monday to respond to Duckworth's claims.
"[Duckworth] is a naive fool if she believes terrorists are inspired by lawmakers over Islamic ideology," Kirk said.
Kirk also called Duckworth's comments "blindly idiotic" and "dumb" Friday.
Following last year's terrorist attacks in Paris, Kirk pushed for a temporary cessation to the program bringing Syrian refugees to the U.S.
"As long as the screening process is weak, Senator Kirk is calling for a pause in the program to ensure those seeking to take advantage of our nation are stopped," Kirk spokesperson Eleni Demertzis told Ward Room.
A Duckworth spokesperson fired back, claiming Kirk has repeatedly been wrong about national security issues.
"Mark Kirk helped lead the charge into the Iraq War, and that disastrous decision created the conditions which gave rise to ISIS," the Duckworth aide said in a statement. "He was wrong then, he's wrong now, and his bizarre Twitter tantrum and subsequent statements reveal that he doesn't appreciate being challenged or held to account for how he's been wrong on just about every critical national security issue of the past 15 years, for his irresponsible rhetoric."
The incumbent Kirk will face James Marter in the March 15 Republican primary while Duckworth will face Andrea Zopp and Napoleon Harris in the March 15 Democratic primary.