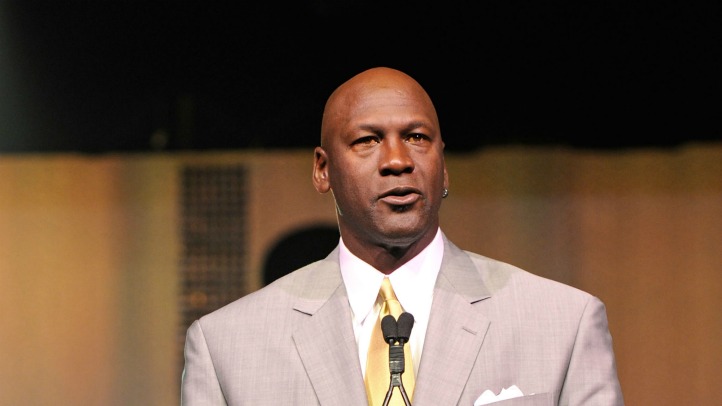 Early in his basketball career, Michael Jordan was famous for avoiding politics. In 1990, Jordan's mother asked him to endorse Harvey Gantt, the African-American mayor of Charlotte who was trying to unseat neo-Confederate senator Jesse Helms in Jordan's native North Carolina.

Jordan refused, worried that taking a partisan stand would damage his Air Jordan brand.

"Republicans buy shoes, too," Jordan said.

Years later, GQ magazine asked Jordan about that statement. At the time, he explained, his entire life was focused on becoming the best basketball player in the world. That left no time for politics.

Jordan fulfilled his goal by winning six NBA titles. That success ensured Republicans would buy Air Jordans, no matter what Jordan said about politics. In 2000, he endorsed fellow pro baller Bill Bradley for president. And in 2004, he endorsed Barack Obama for Senate in his adopted home state of Illinois.

"When I ran for the United States Senate, we had some mutual friends and Michael ended up supporting me," Obama boasted. "I think I may have been like his first political check ever. And so we've been friends."

When even the president brags about being your friend, your popularity transcends politics.

Anyway, Jordan is helping Obama once again, by participating in a fundraising with several other NBA stars.
On August 22nd, President Obama is getting together with some of his basketball heroes: Michael Jordan, Carmelo Anthony, Sheryl Swoopes, Alonzo Mourning, and Patrick Ewing, just to name a few
Wait, did, you catch that? MICHAEL JORDAN.

The President wants to share this dream moment with some of his grassroots supporters. You could be there.

And even if basketball's not your thing, you probably have a friend or loved one who's got enough game for the both of you.

The fact is, Obama, a former high school player, has become so associated with basketball culture that Jordan would damage his brand more if he didn't endorse the president. Democrats buy a lot of shoes.
This month, Ward Room blogger Edward McClelland's Young Mr. Obama: Chicago and the Making of a Black President will be available on Kindle for $2.99. Tracing Obama's career in Chicago from his arrival as a community organizer to his election to the U.S. Senate, Young Mr. Obama tells the story of how a callow, presumptuous young man became a master politician, and of why only Chicago could have produced our first black president.