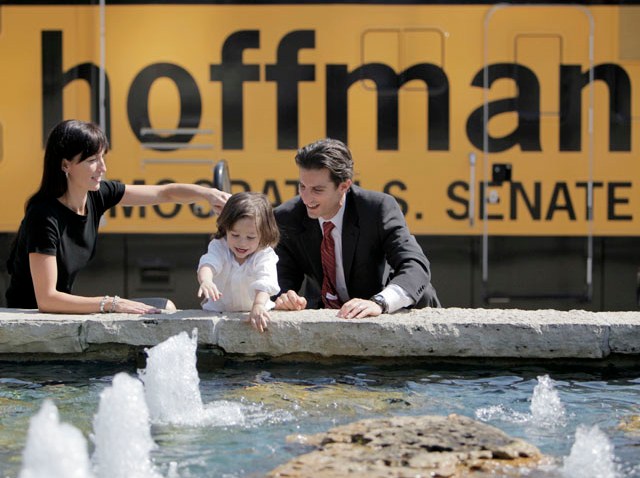 For much of this year, Democrats in Washington have been looking for a white knight in the Illinois Senate race, a chaste candidate who represents a dramatic break from the status quo after the debacle surrounding the appointment of Barack Obama's successor.

Now, they have one whose reform credentials seem to fit the profile — former Chicago Inspector General David Hoffman — but he's been greeted with a yawn.

Despite a record of taking on some of the most powerful politicians in Illinois, Hoffman has been virtually ignored by the Democratic establishment. Party officials are skeptical he can raise enough money in the compressed period of time before the February primary to compete or that there's enough time for him to introduce himself to voters across the state.

And at this late stage in the election process — the February 2010 Illinois primary is the earliest in the nation — Democrats have little appetite for a divisive primary against front-runner Alexi Giannoulias, the state treasurer.

The state's largest labor union, the state Senate leadership and the Cook County Democratic Party have already endorsed Giannoulias, who ended June with $1.6 million in his campaign account.

"Hoffman's candidacy didn't change anything from our perspective," said Jerry Morrison, the Illinois political director of the Service Employees International Union, which is backing Giannoulias. "Unfortunately for David, he got in too late. I have no idea where he's going to get his base of support and raise the money. He's a decent guy, but it's only among political insiders where he's made his reputation. Among the general public, no one knows who he is."

Still, there is considerable concern over Giannoulias's vulnerability to GOP attack. After the impeachment of Democratic Gov. Rod Blagojevich on charges related to the appointment of a Senate successor to Obama, even the whiff of ethical taint or connection to Blagojevich could be enough to sink a candidacy.

"This is the race for the seat that got Blagojevich in trouble — that's the rationale for his candidacy," said Jennifer Duffy, Senate analyst at Cook Political Report. "In the current environment in Illinois, that could get him some traction if he can raise enough money."

In a typical election cycle, Democrats would most likely be perfectly satisfied with the 33-year-old Giannoulias as the Senate nominee. He won a 2006 race for state treasurer by running against the state Democratic establishment with a campaign predicated on an Obama-like theme of change. In that race, Obama offered a glowing endorsement by calling Giannoulias "one of the most outstanding men I ever could hope to meet" in an advertisement.

But 2010, which will feature a Blagojevich trial, won't be a normal political environment in Illinois. Republicans are already circulating a photo of Giannoulias at a gala smiling alongside Blagojevich. And they note that Giannoulias was a vice president for his family's bank, which has been under scrutiny for allegedly loaning money to a mob figure. It was also the subject of a recent profile in Crain's Business that called it the "second-weakest bank of its size in the Chicago area."

Giannoulias has also faced bad press for investing in high-risk stocks with the state's Bright Start college savings fund, which lost much of its value during the recession.

"He's the favorite, but there are a lot of land mines that he's going to have to navigate through," said one Illinois-based Democratic strategist unaffiliated with either campaign. "And he's never been tested at this level. He could get blindsided by things that a more experienced politician would be able to handle."

That helps explain why Democratic Senate campaign officials unsuccessfully sought to recruit former Commerce Secretary William Daley, Chris Kennedy (the son of former New York Sen. Robert F. Kennedy) and state Attorney General Lisa Madigan for the race. In Madigan's case, Obama and Rahm Emanuel personally urged her in a West Wing meeting to run, a public sign that the administration wasn't entirely comfortable with Giannoulias as the nominee.
The Illinois Senate race is one of the administration's top political priorities, and it would be a major embarrassment if Republicans picked up Obama's old seat. Republicans are aggressively contesting the race, with front-running GOP Rep. Mark Kirk sounding many of the same themes as Hoffman about ethical reform.
Hoffman hasn't been shy about making the case that he's the most electable Democratic candidate. In an interview with POLITICO, he questioned whether Giannoulias could win a general election and, in an interview Monday with WLS-AM, he also took aim at the lending practices of Illinois banks — a nod to Giannoulias's banking background.
"If I'm the Democratic nominee, I take the corruption issue off the table. What Mark Kirk and the Republicans have been showing is that they would like to run on the issue of corruption in the fall," Hoffman said. "We need to be choosing people who don't have any connections to the cozy relationships and corrupt politics of the past."

Certainly Hoffman can lay claim to being a reform-oriented outsider. He started his career as an assistant U.S. attorney, spending much of his tenure under U.S. Attorney Patrick Fitzgerald, who made his own reputation by prosecuting corruption and political patronage cases in Illinois — including the Blagojevich case. In 2005, Daley appointed Hoffman as the city's inspector general, where he investigated wrongdoing in Chicago government.

Earlier this year, Gov. Pat Quinn appointed him to a statewide reform commission tasked with recommending proposals to clean up state government.

While Hoffman is serious enough to have hired White House adviser David Axelrod's old consulting firm, AKPD, to run his campaign, he hasn't received any attention from the White House and recognizes that he faces a steep battle to win the nomination.

"I'm not naive. I acknowledge I'm the underdog," Hoffman said. "But the history books are filled with candidates who run races who haven't spent the most amount of money."

His task has been made tougher by the constraints he's put on his own campaign: Hoffman announced he won't take any money from political action committees and lobbyists, and he doesn't plan on courting endorsements from interest groups. Last week, he chose not to appear before a panel of influential Cook County Democratic Party leaders because he said he preferred spending time talking with actual voters.

Another potential primary election hurdle is his early career, in which he clerked for two conservative jurists: Supreme Court Justice William Rehnquist and Dennis Jacobs, one of the most conservative federal judges on the 2nd Circuit. Hoffman said that, as a law school student, he was encouraged to apply to all nine Supreme Court justices for clerkships, and he ended up getting an interview with Rehnquist.

"If you are fortunate enough to be in a position to apply to a Supreme Court clerkship, the proper thing to do is apply to all nine justices," Hoffman said. "A Supreme Court clerkship is an honor, no matter who you clerk for."

Hoffman claims his own personal ideology is solidly progressive, and he agrees with nearly all of Obama's legislative priorities. He supports the public option and said he would have voted for cap-and-trade energy legislation that passed the House earlier in the year. He also would have voted for the stimulus.

Kent Redfield, a political science professor at the University of Illinois-Springfield, said that under different circumstances, Hoffman would be a long shot but that if there is any year for a reformer to prevail, it's 2010.

Chicago Urban League President Cheryle Jackson, the only African-American running for the seat now held by appointed Democratic Sen. Roland Burris, is a wild card in the race. Democratic operatives believe her work as Blagojevich's first press secretary will make it nearly impossible for her to win, but if she peels off a significant share of the black vote, she could help Hoffman in the primary by draining off support that otherwise would have gone to Giannoulias.

"Hoffman could be a great candidate because of his profile, but with first-time candidates, you never know how they'll hold up in the heat of a campaign," said Redfield. "This is an expensive state to run in, and the timetable is awfully compressed."
Copyright POLIT - Politico