President Barack Obama spoke passionately and with frustration Thursday night after a gunman opened fire on a community college campus in Oregon, killing nine people.
"Somehow this has become routine," Obama said. "My response here, at this podium, is routine. We've become numb to this. It cannot be this easy for someone who wants to inflict pain on someone else to get their hands on guns."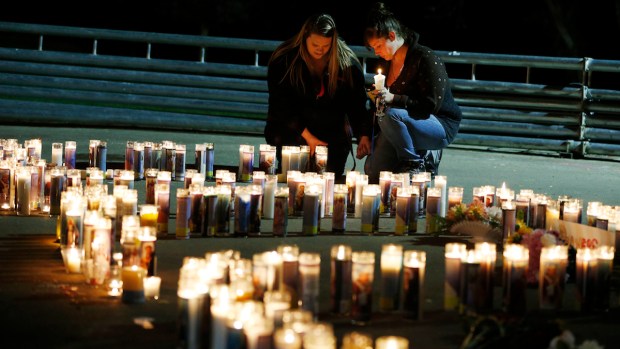 Shooting at Community College in Oregon
The president called upon Congress to implement what he called common sense gun control laws. He noted that critics would say that he had "politicized" the issue.
"This is something we should politicize— it is relevant to our common life together," he said.
The shooter, 26-year-old Chris Harper Mercer, also wounded at least nine others at the college in Roseburg, before dying himself.
Obama compared the United States to other advanced countries, saying that they changed their gun policies after only "one mass shooting." States with more gun control laws have less gun violence, he said.
Other countries also have people who are mentally ill, but the United States is the only developed country that sees shootings like the one in Oregon every month, the president said.
Obama added that "our thoughts and prayers are not enough."
Republican presidential candidate Mike Huckabee criticized Obama in a statement on Facebook, saying that his "passion is grossly misplaced into destroying the Second Amendment" and that gun violence is "the fault of evil people doing evil things."
"With few facts, Obama is quick to admittedly politicize this tragedy to advance his liberal, anti-gun agenda," Huckabee wrote. "For this president to make a political pronouncement is at best premature and at worst ignorantly inflammatory."
Ohio governor and Republican presidential candidate John Kasich learned of the shootings during a taped interview with NBC News. He said that "stripping" citizens of their guns won't "get the job done" to prevent these tragedies.
"You can strip all the guns away, but the people who are going to commit crimes or have problems are always going to have the guns," Kasich said. Instead, he criticized the lack of treatment for the mentally ill in order to prevent shootings.
Earlier Thursday, other presidential candidates and politicians tweeted their thoughts and prayers for victims of the shooting.
Republicans Donald Trump, Jeb Bush, Lindsey Graham and Kasich and Democrats Martin O'Malley and Bernie Sanders were among those sending condolences.
Praying for Umpqua Community College, the victims, and families impacted by this senseless tragedy.

— Jeb Bush (@JebBush) October 1, 2015
My thoughts and prayers are with the victims and their families of this terrible tragedy at Umpqua Community College.

— Lindsey Graham (@LindseyGrahamSC) October 1, 2015
It's with a heavy heart that we all pray for those killed or injured in Oregon today. #UCCShooting

— George E. Pataki (@GovernorPataki) October 1, 2015
Another senseless tragedy with more innocent people killed. Our hearts go out to the families. -B

— Bernie Sanders (@SenSanders) October 1, 2015
My heart is with those who lost so much today in Oregon. -O'M

— Martin O'Malley (@MartinOMalley) October 1, 2015
Many of the initial messages streered away from the politics of gun control but not all, including Rep. Xavier Becerra, a Democrat from California and chairman of the House Democratic Caucus, who challenged Republicans over gun safety.
When is enough, enough for Congressional Republicans blocking sensible #gunsafety laws?! #Umpquahttps://t.co/qEvjHF2htf

— Xavier Becerra (@RepBecerra) October 1, 2015
Here is additional reaction from other public figures.
Oregonians everywhere want Roseburg to know we're praying for them.

— Ron Wyden (@RonWyden) October 1, 2015
Horrific news from Umpqua Community College in Roseburg. My heart and prayers are with the victims and their families.

— Senator Jeff Merkley (@SenJeffMerkley) October 1, 2015
Prayers for the victims, families, students, & faculty at Umpqua Community College, & the community of Roseburg, Oregon.

— Speaker John Boehner (@SpeakerBoehner) October 1, 2015
Today we send thoughts & prayers to #UCCShooting victims & families. Tmrw we must find a way - regardless of politics - to end the violence.

— Chuck Schumer (@SenSchumer) October 1, 2015
On a plane and learning about the heinous shooting in Oregon. A community's heart has been tested but will not be broken. #UCCShooting

— Gabrielle Giffords (@GabbyGiffords) October 1, 2015
Now Oregon. We weep again as a nation. Is the answer to our gun violence epidemic to do nothing? Again? Come on America! We solve problems

— Eric Holder (@EricHolder) October 1, 2015