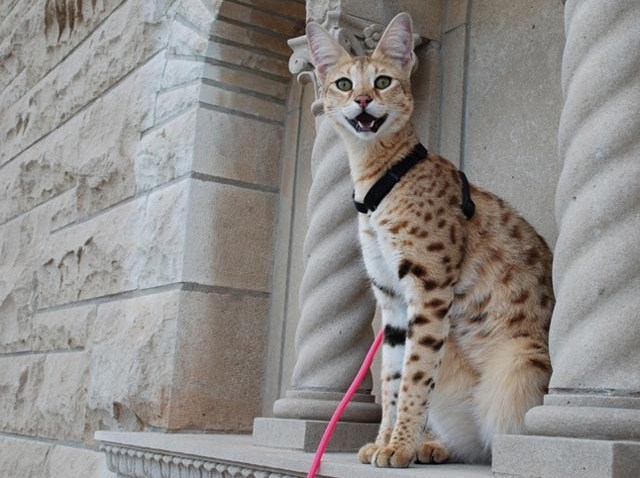 Clocking in at 17.1 inches, a feline in Corona, Calif., is officially the world's tallest pet cat.
Scarlett's Magic isn't an ordinary housecat.
She's an F1 Savannah Cat, a cross between an African Serval and a domesticated breed. It's the closest thing to a wild cat you can own without breaking any California laws.
Anytime breeders start mixing in wild animal genes, there can be a bit of skepticism about temperament -- but her owners, Kim and Lee Draper, say their breed has all the charm of a domesticated cat with the look of a wild plains hunter.
Earlier this month, the Drapers opened the Savannah Cat Shoppe in Corona to show off the new breed.
The Savannah Cats are not caged. Instead they roam freely and play in a glass-enclosed room.
Scarlett's Magic and her Guinness World Record title are not for sale. But that doesn't mean you can't have a Savannah Cat of your own, according to the store's website:
The Savannah Cat Shoppe is the very first of its kind that offers the public the unprecedented ability to interact with these amazing cats and, when available, purchase a cub directly from our store.
The cubs range from $5,000 to $50,000, according to bellagattini.com.
The Savannah Cat Shoppe is located at 2795 Cabot Drive, Suite 180, at Dos Lagos in Corona.
[Photos provided courtesy of Kathrin Stucki]