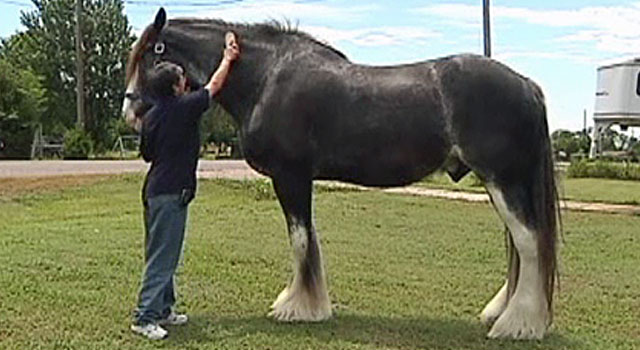 The 3,000-pound stature of a North Texas horse has earned the animal the title of "World's Tallest Living Horse" from the Guinness World Record.
Remington, a Clydesdale from Princeton who eats two bales of hay and 40 gallons of water per day, measures more than 6 feet 8 inches from his hoof to shoulder.

He also has his own blog, where it's evident he also has a big personality.
"I love carrots, apples, hay, grain, peppermints and rolling in the mud," his profile says. "Oh, and I break stuff because I'm curious and clumsy."
He was measured for the record books in June and his owner, Cheryl Davis, has waited patiently for the results since then.
"We are so thrilled and to be sure, the big boy will be getting some extra carrots today," she wrote on Remington's blog Monday. "I got out of the boot this morning, so I'm going to hobble down to the barn and give him a big ole kiss on his big ole nose!"
Davis had to wear an orthopedic boot after Remington stepped on her foot in August.