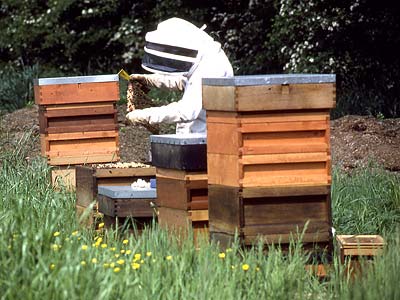 Welcome to Watch List, where we identify five things on TV to watch while you stay at home and mediate negotiations between the NFL owners and players. Yes, the two sides remain far apart on all major issues. But perhaps a little bit of wine and a cheese platter could be the avenue to compromise, no? LET'S GO!

AMERICA'S NEXT TOP MODEL – 8:00PM (CW) Tyra and her five-head send the models out onto the runway tonight wearing live bees. Yes, that's right. LIVE BEES. Will there be a beard of bees? Oh, there better be. And will there be a beekini? You know there will be. And what about a bee bra? Bees are such a versatile fabric that way. This opens up a whole new door for people interested in wearing live animals as a fashion statement. Surely, Lady Gaga is currently working on coat made of six live puppies stitched together. I'm hoping for snakes next week. ANTICIPATION: BEES!

MODERN FAMILY – 9:00PM (ABC) Tonight's episode was written by Carol Leifer, the esteemed standup comic and former "Seinfeld" writer who was the inspiration for Elaine's character on that show. What's interesting about good shows like "Modern Family" is that the voice of the show is so strong, it's usually impossible to notice any variation when different writers handle different episodes. That's always a good sign. ANTICIPATION: VERGARA!

TOP CHEF ALL STARS – 10:00PM (Bravo – an NBC/Universal network) Dale got the boot last week, and while I don't doubt that he had the weakest dish, I still think the judging process for this show is inherently flawed. They never take past wins into consideration when figuring out who should go home. That means, you can be second from the bottom every week until the finale, and then pull a nice meal out of your backside and BOOM! You're the top chef. But does that really make sense? Is that really a good way of deciding who's the best? Dale and Angelo have been booted in consecutive weeks, yet chicken oyster thief Mike remains. It's wrong, I tell you. ANTICIPATION: FLAWED!

HARRY CONNICK JR. IN CONCERT ON BROADWAY – 9:30PM (PBS) The crooner enchants folks on the Great White Way with renditions of old Sinatra songs. If you want to feel like you're at a wedding, this is the program for you. ANTICIPATION: I HOPE THERE'S CAKE!

AMERICAN IDOL – 8:00PM (FOX) The top 12 girls perform. Quick! Grab a jar to capture J-Lo.'s tears! ANTICIPATION: CRYING!