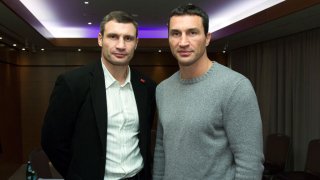 Vitali, Wladimir Klitschko plan to fight for Ukraine amid Russian invasion originally appeared on NBC Sports Chicago
Vitali Klitschko, a former heavyweight boxing champion who is now mayor of Kyiv, announced that he plans to take up arms to defend against Russia's invasion of Ukraine.
"It's already a bloody war," Klitschko said Thursday on ITV's "Good Morning Britain." "... I don't have another choice. I have to do that. I would fight."
Klitschko and his brother, Wladimir, a fellow member of the International Boxing Hall of Fame, posted a joint video on Thursday appealing the "senseless war."
Vitali became mayor of Kyiv and head of the Kyiv City State Administration in 2014. Wladimir enlisted in Ukraine's reserve army earlier this month.
Russia president Vladimir Putin described the invasion as a "special military operation." Ukrainian President Volodymyr Zelenskyy said at least 137 soldiers have been killed.
For extensive coverage of the Russia-Ukraine crisis, click here.
Copyright RSN