It's not hard to see the happiness radiating off Ellen as she prepares to head to her new home.
After several weeks of rehabilitation, the small rescue dog whose furry transformation quickly went viral has finally found a loving family, and four-legged friend to go home with, according to Sue Naiden with the Trio Animal Foundation.
Once described as a "clump of pungent urine-soaked matted fur," 2-year-old Ellen's journey to finding a home hasn't been easy.
The young pup was first discovered walking as a stray on the South Side of Chicago and was taken to Chicago Animal Care and Control in July.
NBC Chicago Adopt-A-Pet Animals
She was later transferred into the Trio Animal Foundation's medical and adoption program. Her fur was so thick and matted employees couldn't tell if she was a male or a female.
"Flies and gnats swarmed around the pup and what appeared to be the dog's back legs dragged on the floor and left a watery trail… just like a snail," Naiden wrote on the Trio Animal Foundation's Facebook page.
Shortly after she arrived, 8.5-pound Ellen was groomed, and her dramatic transformation took social media by storm.
The grooming process took an hour and a half, and at least 2 pounds of fur were shaved away.
[[87356452, R]]
"The amount of grooming tools that [the groomer] had to use to break through the hard shell of fur was unbelievable," Naiden wrote. "The first time that she could feel the touch of my hand on her newly shaven back… She looked me in the eyes and it was as if she was saying thank you… Her past abuse was literally being shaved away."
After her shave, Ellen was given a bath, another trim and was taken to the vet, where she underwent some tests and received vaccinations. She was taken to Naiden's home for rehabilitation while she awaited a permanent family.
Hundreds of hopeful adopters flocked to the foundation's website to put in applications.
The foundation's rescue division, Project Rescue Chicago, narrowed their selection for Ellen's new home to three possible families and ultimately chose a family with another young dog that quickly befriended Ellen.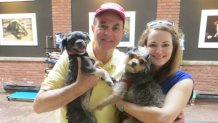 "Ellen's eyes lit up, and she ran right to him," Naiden wrote. "It was love at first site and she made it very apparent that this was the family that she wanted to call her own… it was then that our mighty girl picked her forever home."
Naiden called Ellen's rescue one of the foundation's "proudest accomplishments."