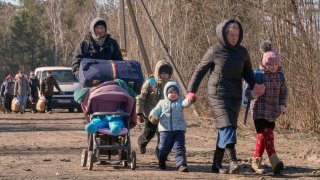 In addition to the more than 2.3 million people who have fled the war in Ukraine, an estimated 1.9 million people are displaced within the country, according to U.N. officials.
U.N. spokesman Stephane Dujarric said Thursday that most of the internally displaced people are moving away from the front lines and heading west toward Lviv. The humanitarian situation "continues to deteriorate at an alarming pace," he said.
"Humanitarian organizations are deploying additional staff across the country and are working to move supplies to warehouses in different hubs within Ukraine and outside," Dujarric said. "So far, we — along with our partners — have reached more than 500,000 people with some form of humanitarian assistance in Ukraine, including life-saving food, shelter, blankets, and medical supplies."
By Wednesday, he said, the U.N. refugee agency UNHCR had delivered 85 metric tonnes of humanitarian assistance to reception and transit centers in Vinnytsia in central Ukraine, which is hosting people who have fled hostilities further east.
The U.N. World Food Program plans to assist up to 3.1 million people, giving priority to pre-positioning bulk food, bread, and other rations in cities and areas where fighting is expected to flare, Dujarric said.
The U.N. Food and Agriculture Organization is warning that between February and May, farmers need to start preparing land for planting wheat, barley, maize and sunflowers and they need to prepare land for sowing vegetables in the middle of March, he said. FAO is also stressing that all efforts should be made to protect harvests and livestock, he said.
---
This is a live update. Click here for complete coverage of the crisis in Ukraine.
Copyright AP - Associated Press