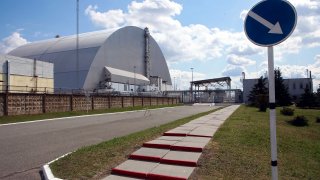 The Ukrainian state power company says the power line supplying the site of the 1986 Chernobyl nuclear disaster has been damaged by Russian forces again after it was repaired.
The Ukrenergo company said in a statement Monday that its technicians had started to supply power Sunday evening but "before the power supply was fully restored, the occupying forces damaged it again." Ukrenergo said it will attempt another repair.
Ukraine said Wednesday that power had been cut to the site and that there was enough diesel fuel to run on-site generators for 48 hours. The International Atomic Energy Agency played down concerns, saying that cooling ponds there are large enough to keep the spent fuel in a safe condition even if the power supply is interrupted.
But the IAEA also warned that Ukrainian staff at the facility had ceased performing repairs and maintenance of equipment, partly because of ongoing "physical and psychological fatigue after working non-stop for nearly three weeks."
This is a live update. Click here for complete coverage of the crisis in Ukraine.
Copyright AP - Associated Press