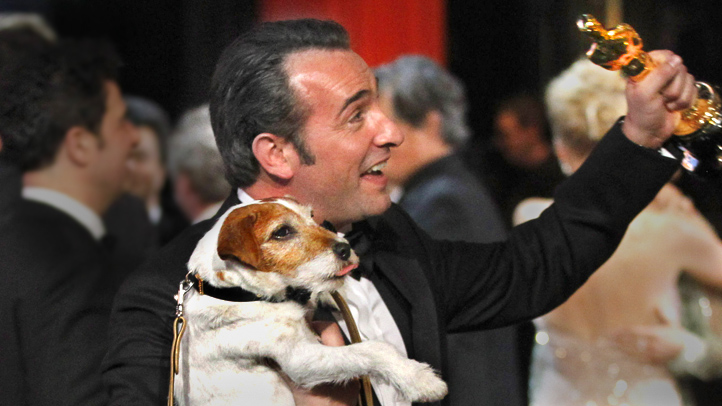 Uggie, the dog who starred in the 2011 Oscar-winning film "The Artist," has died.
The Jack Russell terrier, who hit it big by starring in Robert Pattinson and Reese Witherspoon's 2011 movie "Water for Elephants," was put down last Friday in Los Angeles after battling a prostate tumor, Today.com reported. He was 13.
Animal trainer Oscar Von Muller, who owned the pooch, confirmed Uggie's death with a post and multiple photos on his Facebook page. Von Muller, won the Palm Dog Award at the 2011 Cannes Film Festival for his work in "The Artist." He also won the Golden Collar Award for the role.
Sarah Clifford, who trained Uggie for his scenes in "The Artist," told TMZ that he was "a perfect little terrier. I will forever hold him dearly in my heart and never forget his infinite love for chicken and hot dogs."
Uggie was the first dog to have his paw prints on the Hollywood Walk of Fame, and he also was also Nintendo's first spokesdog. His memoir "Uggie, My Story," was published in 2012. At the time of its release, Von Muller told USA Today, "He goes from being asleep to action instantly. He's like, 'Let's do this.' Uggie is a true star." The book's co-author, Wendy Holden said, "There's just something about Uggie. He was born to be a star. The fact he ended up being a dog is sort of by-the-by. And he wasn't some pedigree dog born into this. He was destined for the pound. He has this extraordinary story."
The pooch appeared in commercials before starring opposite David Boreanaz in 2006's "Mr. Fix It." "Mostly, I had to sit and look interested and cock my head as if listening," he wrote of his first major movie. "It was no sweat."
It was Witherspoon, though, whom Uggie loved working with most. "I adored her," Uggie wrote in his book. "At the ripe old age of 56 in human years I had fallen in love for the first time...and boy did I fall."
"They were very close," Von Muller told USA Today of Uggie and Witherspoon. "When Uggie would come on set, he'd be all over her. She was a real animal lover. And he likes to kiss a good-looking girl."
The dog retired from strenuous acting at age 10.
"I thought it was not fair for him to be working the long hours. He would not enjoy it anymore," Von Muller said. "On 'The Artist' he was pulling the leash to get on the set. But he's older. He cannot spend 10 to 15 hours on set anymore for 20 straight days."
Uggie missed being in the spotlight, though. "He's a working dog. You can see he misses it. Every morning it's like, 'OK, are we going to go out?' His tail is wagging. He wants to go out and do the work he has done his whole life. He loves the attention," Von Muller said.
Of course, Uggie lived a full life. As the dog wrote in his memoir, "I have no regrets. My only hope is that long after my paws no longer trod this Earth I will still be remembered as a little artist with a big heart."
Copyright E! Online