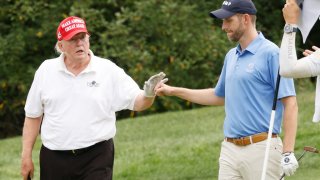 Former President Donald Trump on Thursday defended hosting a Saudi-funded tournament at his golf course in Bedminster, N.J., by casting doubt on any connection between Saudi Arabia and the 9/11 terrorist attacks.
When asked to respond to harsh criticism from families of Sept. 11 victims who are urging Americans to protest the Saudi-backed LIV Golf tournament, Trump suggested there was still uncertainty surrounding the attacks.
"Well, nobody's gotten to the bottom of 9/11, unfortunately, and they should have," Trump said.
For more on this story, go to NBC News.