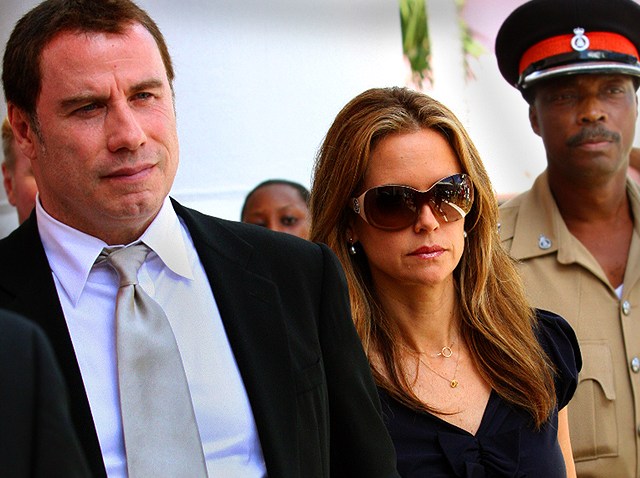 John Travolta performed CPR on his autistic son Jett after he suffered a deadly seizure, desparately trying to revive the 16-year-old boy, the actor said Wednesday.
In the extortion trial of two men accused of blackmailing him with information about the incident, Travolta said he administered breathing help for Jett while a caretaker was doing chest compressions.
"I ran downstairs with my wife to help my son," Travolta said.
Jett Travolta died from the Jan. 2 seizure in the Bahamas.
Travolta is testifing against paramedic Tarino Lightbourne and former Bahamas senator Pleasant Bridgewater, who are accused of attempting to extort $25 million from the movie star.
Travolta has kept quiet since Jett's death, and has never before admitted that his son suffered from autism -- a condition not recognized by Scientology, Travolta's religion. He skipped public appearances for his most recent movie, "The Taking of Pelham 1 2 3," and has said little about the incident in the Bahamas.
During his testimony Wednesday morning, Travolta said Jett suffered from seizures every five to 10 days. The seizures would last 45 seconds to one minute, he said.
Travolta also said that it took the ambulance more than 30 minutes to arrive. When it did, he signed a form releasing emergency responders from liability if the family refused an ambulance. According to testimony, Travolta considered flying Jett from the Bahamas to Florida for treatment, but he could not get a private plane on short notice, so he took the ambulance to a local hospital. The blackmail efforts centered around this release form, police said.
Travolta arrived at Nassau's Supreme Court building with his wife, actress Kelly Preston, in an entourage of sports utility vehicles. It was Travolta first appearance in the trial, which began Monday. The judge dismissed Travolta Wednesday afternoon, but said he could be called back later in the trial for further testimony.
Copyright AP - Associated Press