A tornado hit the small, rural Illinois town of Cameron just before dusk on Thursday, causing extensive damage but no significant injuries, state police said.
Search and rescue operations were continuing through the night in the town of about 600 people that's roughly 200 miles southwest of Chicago. No one except first responders was being allowed into the town.
"The tornado caused significant damage to the town," including numerous power lines down and several gas leaks, Illinois State Police said in a statement.
The tornado touched down around 7:30 p.m. as a line of storms swept through an area stretching from Galesburg in western Illinois to the western suburbs of Chicago.
Cameron resident Mike Trout, 50, took refuge in his basement during the twister and said all he could hear was the roaring and windows breaking. Every window in his house was shattered and a 2-by-6-inch piece of lumber pierced through a wall of his home.
"I lived in this town in 1989 when the last tornado touched down," he told the Galesburg Register-Mail. "The damage this time is far, far worse; 1989 doesn't even compare to this."
Local electric utility Ameren Illinois said thousands of customers in the area were without power. A temporary shelter was set up at United High School near the town of Monmouth.
National Weather Service meteorologist Andy Ervin said survey teams would be dispatched at first light Friday morning to determine extent of the damage and the strength of the tornado.
Photographs of the area showed damage to a grain silo and heavy damage to at least one house.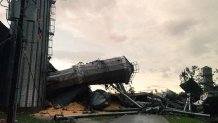 A tornado is also believed to have hit in Delevan, Illinois in Tazwell County.
The town's mayor told NBC affiliate WEEK News the tornado hit around 11:40 p.m. Thursday on the south side of town, causing flooding and downing power lines and trees. Minor injuries were reported, said Mayor Liz Skinner.
"From what I understand, we were very fortunate," Skinner said. "The tornado started on the southwest side of the town, then veered a little bit and then veered back out. So we were very fortunate. It could have done a lot more damage."
Residents recalled hearing a siren before the storm.
"My friend who I'm staying with called me and said that we need to go down into the basement," said Maddie Shue. "There were branches that were flying across the windows and then there was the lights and the thunder."
Residents are allowed to leave the town, but won't be able to return until further notice, officials said.
Copyright AP - Associated Press