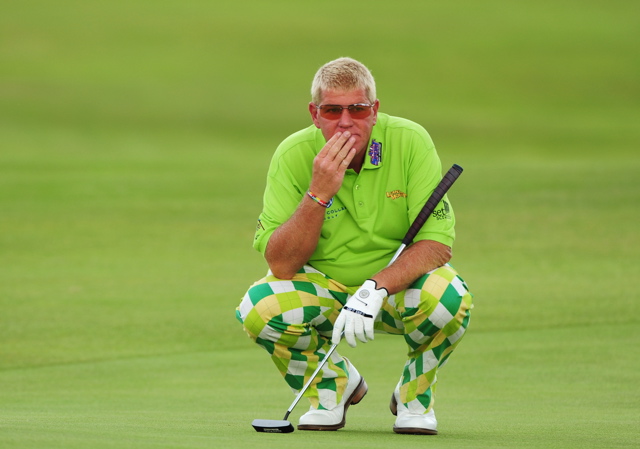 Public confrontations between the sports world and the media are nothing new, but social media can turn slow, drawn-out fights into instant brawls.
In the past week, three separate incidents swept across the internet, leaving two athletes with a whole lot of bad press and one Serbian soccer fan locked up in jail.
Incident 1: PGA troublemaker John Daly went on a Twitter tirade against the Florida Times-Union's Garry Smits after Smits wrote about the golfer's internal PGA Tour disciplinary record. The report came out on Wednesday, the same day Daly's new reality show premiered on The Golf Channel.
In a Tweet now removed from the golfer's feed, Daly wrote, "here's the JERK who wrote the NON-NEWS article on the debut of my show --Call & tell him how we feel [number redacted] Gary Smits."
The story prompted the Wall Street Journal sportswriter Garey Ris to write about the increasing number of athletes who make themselves news by posting things "libelous, nonsensical or just plain silly."
Incident 2: In Serbia, a soccer fan was sentenced to 15 months in jail for endangering the safety of Serbian journalist Brankica Stankovic after sending her threatening messages via Facebook.
The fan, Stefan Hadziantonovic, was upset over Stankovic's recent documentary that claimed a connection between Serbian soccer gangs and crimes such as drug trafficking and murder.
Incident 3: Soon after Russia's 7-3 loss to Canada in Vancouver, a seething Alex Ovechkin tried to rip a video camera out of the hands of a Russian fan.
The video of the hockey star quickly made the rounds on YouTube -- and made a splash in the media. Deadspin even used Russian-to-English Google translation to bring a semi-coherent description of the incident to fans in the U.S.
One commenter pointed out on Yahoo Sports' Puck Daddy blog, "So he roughed up camera? Where's the news? Why is this even posted? Did anyone get hurt? Did the anything get broken? Was there any profanity? No. No. No. This is not news."
But that's the thing: Incidents like this have always made the news, they just took longer to come to a head.
In 1994, NFL quarterback Jim Everett attacked ESPN2 personality Jim Rome on-air after months of bad blood between the two -- Rome insisted on referring to Everett as "Chris" Everett, a reference to then-popular female tennis player Chris Evert. Seconds after Rome ignored a warning from Everett, the football player knocked over the interview desk and tackled Rome to the ground.
In today's world, Everett and Rome would have likely fought it out via Twitter before meeting face-to-face, and every sports blog would have given blow-by-blow coverage of each exchange.
The truth is, conflict no longer brews for months or years before some public display is splashed across the headlines. If an athlete or a sports fan has a problem with the media, there are twice as many cameras to get angry at, and a PR nightmare is only one mouse click away.