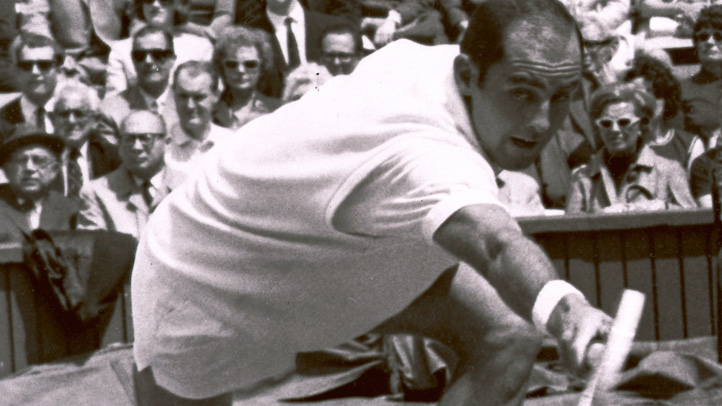 Former Grand Slam doubles champion Bob Hewitt has been served a summons to appear in a South African court to face allegations he sexually abused young girls he coached decades ago, prosecutors told The Associated Press on Thursday.
South Africa's National Prosecuting Authority said the summons was served to the 73-year-old Hewitt last Saturday. Hewitt was ordered to appear at Boksburg Magistrate's Court near Johannesburg on Aug. 16, when he will learn what criminal charges he faces.
The NPA would not detail the charges against Hewitt. NPA spokeswoman Phindi Louw said Hewitt, who is believed to live in the town of Addo on South Africa's south coast, would be informed of the charges when he appears in court.
Hewitt denied all the accusations when contacted by the AP in a telephone interview.
Hewitt confirmed that he had received the summons and would "of course" appear in court, but wouldn't say what the charges were as "they had not been made public."
"I'll keep it private," he said. "I'm innocent of all charges and these accusations have caused untold hardship on my family."
Hewitt also said he intended to sue his accusers.
Hewitt has been at the center of a long investigation into accusations he abused and raped girls from the 1970s through the 1990s.
Two of Hewitt's alleged victims, Suellen Sheehan and Twiggy Tolken, accuse him of abusing them when he was their coach in South Africa.
Sheehan, now 44, asked South African police to open an investigation in 2011, and accuses Hewitt of raping her when she was 12.
"He is going to go out with a legacy that is not the same legacy he had," Sheehan said.
Tolken, who is 45 and lives in New Zealand, said Hewitt also began abusing her when she was 12.
"The time has come for the law to take its course," Tolken said in an emailed statement to the AP. "One cannot affect the lives of so many in such a heinous way and expect to get away with it. Let justice prevail."
A third woman, Heather Conner, of West Newbury, Massachusetts, also accuses Hewitt of abuse. Conner said she was sexually abused from the age of 15, being forced to have sex with him near a high school in Massachusetts.
The AP typically does not identify alleged victims of sexual abuse, but all three women have agreed to be named.
Sheehan, who lives in Johannesburg, said she felt "numb" at the news that Hewitt was to face charges.
"What I want to say, what I want to reiterate," Sheehan said, "is that parents must never think there is not an evil being around their children. And children must never think you won't be believed if someone is doing something to you. If the first person doesn't believe you, go to the next person."
Hewitt won doubles and mixed doubles titles at all four Grand Slam events between 1963 and 1979 and played with greats like Billie Jean King.
Recognized as one of the greatest doubles players of all time and a winner of 15 Grand slam doubles titles, the Australian-born Hewitt was indefinitely suspended from the International Tennis Hall of Fame in November because of the allegations.
The organization, which is based in Newport, R.I., inducted Hewitt in 1992, calling him an "enduringly elegant player" and a "master of the doubles craft."
He was saved from expulsion due to a lack of a criminal conviction.
Copyright AP - Associated Press