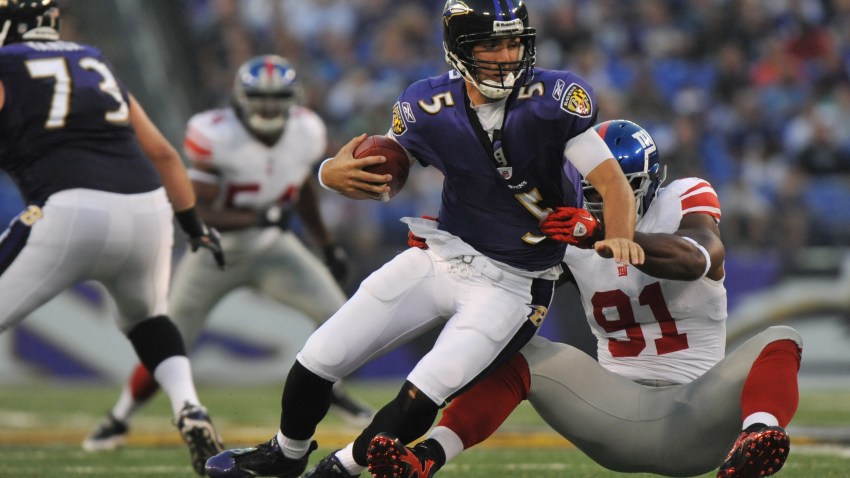 We're doing in-depth scouting reports on the two big AFC divisional playoff games. Yesterday, it was Broncos-Patriots. Next up: Texans/Ravens.

The Teams: The Baltimore Ravens vs. the Houston Texans

Records: 12-4 (Ravens), 11-6 (Texans)

The Line: Ravens by 7.5.

The Coaches: Gary Kubiak vs. John Harbaugh. I still think Kubiak purposely styles his hair like Nick Saban just so he can be extra stern with his players. It's not clear as to whether or not defensive coordinator Wade Phillips will be calling plays from the booth or if he'll be back on the sideline for this game. Either way, it's clear that his presence had an impact on his players, who balled like crazy against the Bengals.

The Offenses: The running back matchup is superb. Texans RB Arian Foster ran for over 150 yards against Cincy, and Ravens RB Ray Rice had two 190+ yard efforts in his last five games. Both excel at catching the ball out of the backfield and can help make up for the inconsistent play of their respective QBs. The Texans line is one of the best in football, and the Ravens were shockingly able to cobble together a good line with castoffs like Bryant McKinnie (late of the Vikings) and Andre Gurode (of the Cowboys). The Texans have a fully armed and operational Andre Johnson back at wideout, along with a relatively deep stable of tight ends. The Ravens will rely on rookie Torrey Smith down the field and veteran Anquan Boldin on intermediate routes. TE Ed Dickson is awful.

Now, about those quarterbacks. You know all about rookie TJ Yates, who was thrust into the starting lineup after both Matt Schaub and Matt Leinart went down with season-ending injuries. Yates varies between being mildly effective and totally useless, which is pretty much what you'd expect out of a rookie starter. His brilliant 40-yard strike to Johnson was what iced the game for Houston last week. He'll need more of those throws on Sunday if the Texans want to move on to the AFC title game.
Now, on to Flacco. I think Flacco is part of that second tier of NFL starters - guys like Matt Ryan, Tony Romo, and the like. These are guys who are good enough to get you to the playoffs, but not good enough to get you much further. Flacco has a tendency to lock in on his receivers, and he lacks anything resembling a personality. I'm not even sure he can talk.

The Defenses: Spectacular. These were two of the top three defensive teams in football this season. Houston rookie JJ Watt's interception against the Bengals last week was one of the coolest pick-sixes I've ever seen. Elsewhere, the Texans are doing just fine without DE Mario Williams. CB Johnathan Joseph was the best defensive pickup of the offseason. Inside linebackers Brian Cushing and DeMeco Ryans are both playing at an All-Pro level. If the Ravens want to beat this defense, it'll be with Rice catching the ball away from those two and Smith beating CB Danieal Manning deep.

As for the Ravens, ILB Ray Lewis has been diminished ever since he was injured and missed time in the middle of the season. But he can still do that stupid flag dance to start the game. Terrell Suggs has picked up the slack for him, and will likely be in Yates' face all day long. The Ravens gave up fewer touchdown passes than any other team in football this season, and it's not as if running the ball against them is all that more effective, with DT Haloti Ngata anchoring the center. It's gonna be real, real hard for the Texans offense to score in this game. Their best bet if for Flacco to turn the ball over and give them great field position.

Key Matchup: The Houston defense vs. Rice. This is the kind of game where Rice could go off early and make it a laugher by halftime.