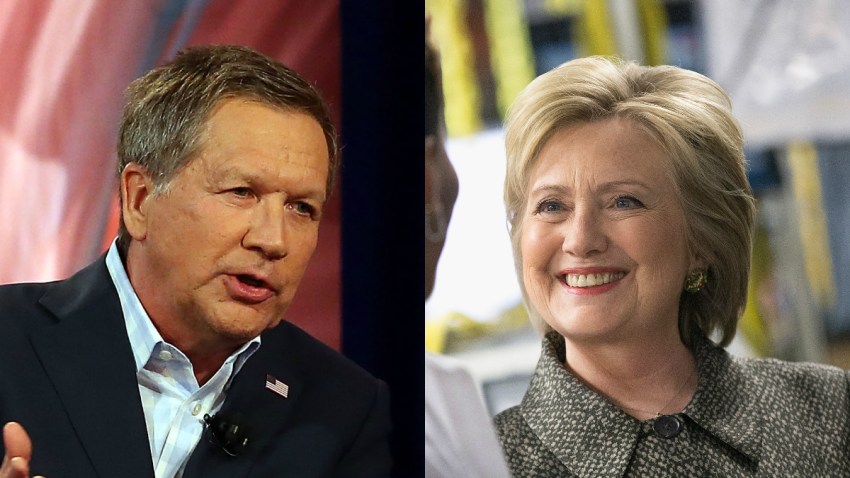 The Chicago Sun-Times editorial board announced its endorsement of Ohio Governor John Kasich and former Secretary of State Hillary Clinton in the Republican and Democratic presidential primaries, respectively, on Friday.
In the Democractic race, the paper cited Clinton's "professional and personal skills" as its reason for the endorsement, calling it "an easy call" despite "her share of big mistakes."
The editorial board writes that her failure to institute a single-payer healthcare program in the 1990's taught her to work more closely with Congress in a bipartisan manner, partnering on various initiatives with unlikely allies in Republican officials.
"Domestically, Hillary Clinton could be very good for Chicago, even if she had not grown up in suburban Park Ridge," the endorsement adds. "She has long favored the kind of common-sense gun controls this city and country desperately need. She has been a champion of civil rights, women's issues and comprehensive immigration reform, including the creation of a pathway to citizenship. She opposes privatizing Social Security and believes working people should be guaranteed, by law, up to 12 weeks of paid family and medical leave."
Clinton will face Senator Bernie Sanders in Illinois' March 15 Democratic primary.
On the Republican side, the Sun-Times endorsed John Kasich, calling him "a grown-up" before describing a dystopian view of "Trump's America."
The board reasons that Kasich has "refused to jump into the mud pit," throughout the campaign, and cites his experience as governor of Ohio and as a Congressman for 18 years as their rationale for endorsing him.
"He does not deny the reality of climate change, which sadly makes him an outlier in his own party, though he opposes the EPA regulating carbon emissions," the endorsement states. "He favors the completion of a fence along the Mexican border, but he would offer a path to legal status — not citizenship — for undocumented workers. As a governor, Kasich has pushed for less prison time and more rehabilitation services for nonviolent offenders. He signed a bill in 2012 making it easier for ex-felons to get work, and he has argued that America's prisons are holding too many people who are mentally ill."
Kasich faces Donald Trump, Sen. Ted Cruz, and Sen. Marco Rubio in the state's March 15 Republican primary.