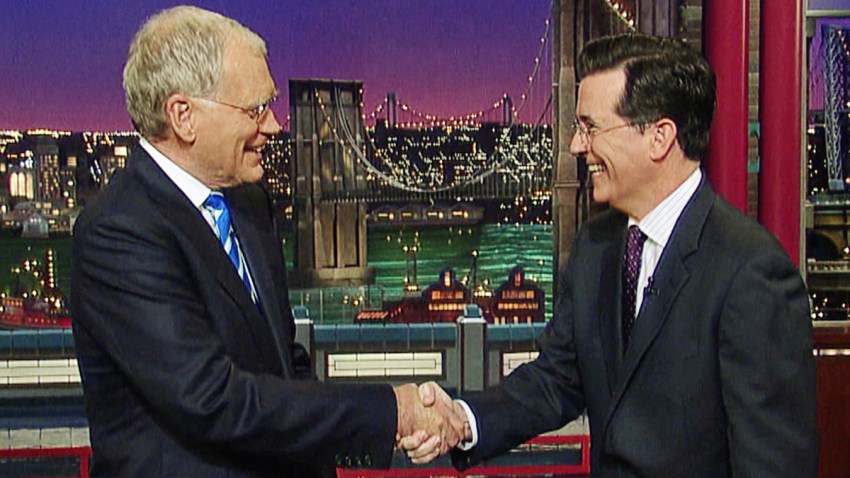 It's time for the official passing of the late-night mic!
Stephen Colbert, who will succeed David Letterman when he retires in 2015, will join the talk-show legend on "The Late Show," CBS announced Tuesday. Letterman will welcome his late-night protege to the CBS stage Tuesday, April 22 for their first sit-down since the news was announced that Colbert would be the next host of Late Night.
To date, Colbert has appeared as a guest on the "Late Show" alongside Letterman a total of 12 times, but we have a feeling that will be unlike any other appearance. We can only imagine how amazing the Top Ten List will be that night!
Letterman, TV's longest-running late-night talk-show host, announced his retirement from the "Late Show" earlier this month. After the news was announced that the Comedy Central comedian would be taking his place, Letterman admitted that he was thrilled by CBS's choice.
"Stephen has always been a real friend to me," Letterman said in a statement. "I'm very excited for him, and I'm flattered that CBS chose him. I also happen to know they wanted another guy with glasses."
And Colbert is equally excited to be stepping into Letterman's prestigious shoes. "Simply being a guest on David Letterman's show has been a highlight of my career," Colbert said in a statement last week. "I never dreamed that I would follow in his footsteps, though everyone in late night follows Dave's lead. I'm thrilled and grateful that CBS chose me. Now, if you'll excuse me, I have to go grind a gap in my front teeth."
Colbert will join Letterman on "The Late Show" on Tuesday, April 22 on CBS
Copyright E! Online