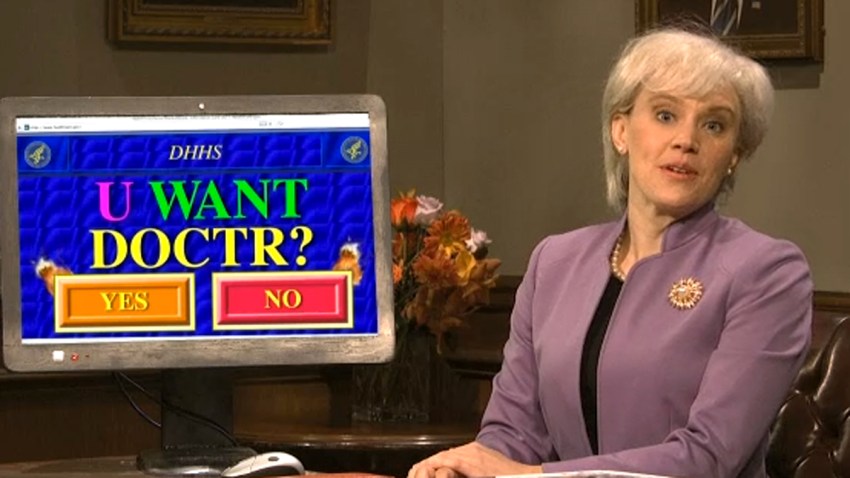 Secretary of Health and Human Services Kathleen Sebelius had a rough last few days, with Republicans calling for her resignation over Obamacare's clumsy online rollout.
This week's "Saturday Night Live" wasted no time addressing the haphazard website as Sebelius (Kate McKinnon) told the country she knew the site was "crashing and freezing, shutting down and stalling and not working, breaking and sucking," but recommended restarting your computer to fix the problem. If that doesn't work, she said, you should try and restart it again.
Sebelius even told users to try the site in a different language, preferably Icelandic, or the lo-res version.
"Millions of Americans are visiting the Healthcare.gov, which is great news," she said. "Unfortunately, the site was only designed to handle six users at a time."
Sebelius also told users that while they were waiting for the site to respond, they could book vacations to Canada on Kayak.com and buy cheaper prescription drugs while out of the country.
"Weekend Update" with Seth Meyers and Cecily Strong also had fun at the expense of the glitch-prone website.
"House Republicans this week opened hearings into the failures of the Healthcare.gov website, " Meyers said. "So don't worry about that tech issue America, a bunch of our oldest men are on the case."
Strong had some words for Sebelius.
"Sebelius said this week that President Obama did not know about the HealthCare.gov technical problems until after its launch," she said. "In a statement she delivered from under the bus."
This week's host, film veteran Ed Norton, also made his "SNL" debut and got some assistance from 15-time "SNL" host Alec Baldwin and recent musical guest/host Miley Cyrus.
Although both were there to help Norton through his monolgue and said they had confidence in him, they still found time to plug their new projects -- Baldwin's new MSNBC talk show and Cyrus' new tour.
This week's musical guest, Janelle Monae, performed "Electric Lady" and "Dance Apocalyptic."
Next week's host will be actress Kerry Washington with musical guest Eminem.