An inmate trying to escape custody in southwestern Michigan disarmed a law enforcement officer and fatally shot two court bailiffs before being shot dead, authorities said.
The suspect also tried to take hostages and wounded a sheriff's deputy and a civilian before being fatally shot at the Berrien County Courthouse in St. Joseph, according to Berrien County Sheriff's officials.
Sheriff Paul Bailey said the shooting began as the suspect, an inmate who "was trying to escape" got into a fight with a deputy and bailiff outside a holding cell and disarmed one of the officers.
The suspect was identified Monday night as Larry Darnell Gordon, a 45-year-old Colma resident being held in Berrien County Jail on several charges. The incident began at 2:15 p.m. as he was being taken to a court proceeding.
[NATL] Top News Photos: Pope Visits Japan, and More
"Our hearts are torn apart," Bailey said at a news conference Monday evening. "They were my friends, they were my colleagues. I've known them for over 30 years."
Officials identified the deceased court officers as Joseph Zangaro, 61, and Ronald Kienzle, 63 and a U.S. Army veteran. A sheriff's office news release said they were both well respected in the Berrien County community and among law enforcement.
Bailey had initially said several people were wounded, but later said only one civilian was injured along with the deputy. Both received non-life-threatening injuries and are in stable condition.
The injured deputy was identified as James Atterberry Jr., 41, a 14-year veteran of the department.
Atterberry's father, Bishop James Atterberry Sr., told NBC Chicago he is a "dedicated man to the community and to God."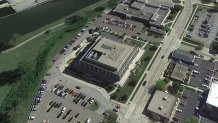 While the investigation into what occurred is still ongoing, Monday night's news release said Gordon briefly tried to take hostages but was was taken down when he was engaged by other bailiffs and law enforcement officers. Gordon allegedly shot a civilian in the arm before being taken down.
Bailey first confirmed the shooting to WNDU, an NBC-affiliated television station in South Bend, Indiana.
Bailey said all police agencies in the area responded to the scene and an investigation into how the gunman obtained a weapon was underway. The courthouse would be closed Tuesday.
The shooting comes days after a gunman ambushed Dallas police officers at a peaceful rally Thursday, leaving five officers dead and nine hurt, along with two civilians.
Michigan Gov. Rick Snyder attended the evening press conference, saying he was there to encourage people in the state and across the country to support law enforcement agents after the "awful act" in Berrien County.
"This is a particularly tough time for law enforcement," Snyder said.
Donald Trump also tweeted about the shooting saying, "Thoughts and prayers with the victims and their families- along with everyone at the Berrien County Courthouse in St. Joseph, Michigan."