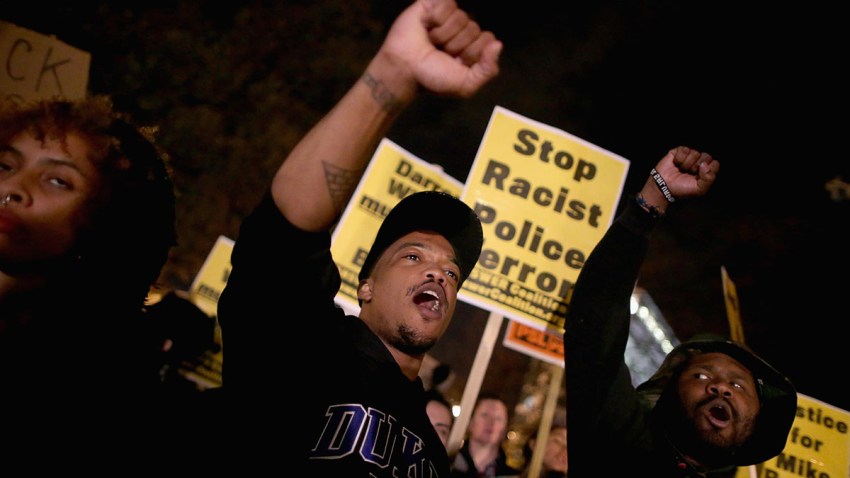 Heated protests continued for a second night in response to a Missouri grand jury's decision not to indict the police officer who fatally shot unarmed teenager Michael Brown, with violence and arrests reported across the nation.
Police ordered protesters and media off Ferguson, Missouri, streets after largely peaceful demonstrations turned violent Tuesday evening when a police car was set on fire. Earlier in the evening, demonstrators swarmed the steps of the federal courthouse in St. Louis chanting, "You didn't indict! We shall fight!" The Associated Press reported.
At a news conference early Wednesday, St. Louis Police Chief Jon Belmar said 44 people were arrested in Ferguson, but added that "it was a much better night."
In New York City, police said 10 people were arrested as protesters gridlocked major streets, highways and bridges. Protesters blocked access to the Manhattan side of the Lincoln Tunnel, one of the city's major transit arteries, during rush hour Tuesday evening.
More than 500 protesters marched up Broadway and gathered peacefully in Times Square. They chanted "Hands up, don't shoot" and carried signs reading "We will not be silent." Around 200 protesters also gathered peacefully in nearby Newark, New Jersey.
In Philadelphia, demonstrators were already taking place at noon on Tuesday, with a group holding signs that read "Outraged! Where is Our Justice?" and "Don't Shop Black Friday." A group of about 500 later held a rally at Temple University and protested outside of a police headquarters, demanding that officers wear body cameras.
Hundreds of activists in Chicago marched through Downtown after police ordered protesters to leave Mayor Rahm Emanuel's office, where they had been participating in a planned 28-hour sit-in. The group called on Emanuel to change what they said was a culture of racism within the Chicago Police Department.
Two people were arrested at a small protest outside the Miami-Dade Metro Justice building Tuesday, police said. A Miami jury deliberating the fate of a woman accused of killing her husband's business partner was dismissed early in anticipation of a protest at the Miami courthouse.
In Los Angeles, almost 100 people were arrested as a few hundred protesters took to the streets, engaging police in a standoff at a freeway off-ramp and surrounding a Highway Patrol car in a tense scene in the south side of the city. Police Chief Charlie Beck said earlier Tuesday that only three arrests were made in protests across LA on Monday.
"I know that this isn't over," Beck said. "This is a wound of the nation that will not heal immediately."
One of the largest protests nationwide was in Boston, where an estimated 1,400 protesters gathered near the Massachusetts Avenue Connector, NBC News reported. Police blocked a ramp leading to I-93 to prevent protesters from going on the highway. The demonstrations in Boston were peaceful overall, however, 45 arrests were made throughout the city, New England Cable News reported.
In Oakland, California, a small group of protesters briefly shut down Interstate 580, but police officers were able to redirect them back onto city streets. Police arrested 40 people on Monday night following the grand jury's decision.
A car plowed through protesters in Minneapolis Tuesday afternoon, injuring one demonstrator, the Minneapolis Star-Tribune reported. Moments after the demonstrator was struck, a group of demonstrators jumped on the hood of the vehicle while others tried to free the demonstrator. Minneapolis Police Department said they were continuing to investigate.
The announcement that the Missouri grand jury had brought no charge against Officer Darren Wilson in the Aug. 9 killing of 18-year-old Brown sparked rioting in Ferguson and some unruly protests elsewhere Monday night.
Missouri Gov. Jay Nixon vowed that the violence would not be repeated, adding that the National Guard presence would be "ramped up significantly."
"Last night criminals intent on lawlessness and destruction terrorized this community, burning buildings, firing gunshots, vandalizing storefronts and looting family businesses, many for the second time," he said at a Tuesday afternoon news conference in Ferguson. "I am deeply saddened for the people of Ferguson who woke up this morning to see parts of their community in ruins."
Protesters had hurled bottles at officers near police headquarters, and flames engulfed at least a dozen businesses. St. Louis County police deployed tactical units and fired tear gas and smoke to break up the crowds. At least 150 gunshots were fired and a semi-automatic handgun was seized, St. Louis County Police Chief Jon Belmar said at a news conference early Tuesday.
Sixty-one people were arrested in Ferguson on charges that included burglary and trespassing, according to The Associated Press. St. Louis Mayor Francis Slay said early Tuesday that 21 were arrested in the city.
[NATL]Protests Erupt After Ferguson Grand Jury Decision
"I'm disappointed I didn't see more peaceful protests out there," Belmar said. "What I've seen tonight is probably worse than the worst night we had in August."
Attorney General Eric Holder said Tuesday that he had briefed the president in the Oval Office about the violence. He said they talked about the need to bring people together.
"This is a difficult time for people in Ferguson," Holder said. "It's a difficult time for people in our country. I think this is an opportunity for us to find those things that bind us as a nation, to be honest with one another about those things that continue to divide us and to come up with ways in which we make this union even more perfect."
Across the country, reactions ranged from marches that threatened to shut down busy streets to gatherings near national landmarks. Most remained peaceful, officials said.
In California, large crowds marched through the streets of Oakland and Los Angeles. Demonstrators shut down Interstate 580 and the USC campus was placed on lockdown as demonstrators marched by.
Angry protesters took to the streets of Philadelphia after the announcement, chanting "No Justice. No Peace. No Racist Police," and holding both arms in the air. Albeit loud in voice, they remained peaceful in actions as police trailed their march.
A man was arrested after hurling fake blood on NYPD Chief Bill Bratton in New York's Times Square during a demonstration. Hundreds marched from Union Square to Upper Manhattan through traffic-clogged streets, with signs such as "Jail killer cops."
At the Chicago police department's headquarters, several hundred people chanted "This is what democracy looks like," and carried photographs of those they said were killed by officers.
Outside the White House, roughly 300 gathered for a peaceful demonstration, chanting "black lives matter." Some carried signs urging the demilitarization of police.